If you are looking for some of the most exotic and adventurous things to do as a couple, your search ends in Switzerland. Choose one of the best Switzerland honeymoon packages from Goa by Thrillophilia and explore this destination with the most picturesque landscapes in the entire world. Book your Switzerland honeymoon packages from Goa with Thrillophilia and enjoy the best deals and discounts on a tour that has been customized for your individual preferences.
Embark on your memorable holidays with Thrillophilia's Switzerland couple tour packages from Goa and explore the greenest pastures, chocolate factories, cheese farms, and watch houses with your dearest one. Click pictures together against postcard-like backdrops that make your honeymoon no less than a dream. You can also visit some of the country's most stylish quarters and embark on countless adventures and thrilling activities. Make the most of your opportunities for shopping, sightseeing, traditional folk entertainment, design art, and nightlife.
So, what are you waiting for? Book your Thrillophilia Switzerland tour packages from Goa with the most unbelievable deals and visit this astounding locale today.
Switzerland Honeymoon Packages From Goa
| Switzerland Couple Packages from Goa | Duration | Price |
| --- | --- | --- |
| Swiss Italy with FREE Excurison to Mount Titlis | 9 Days / 8 Nights | ₹ 143200.0 |
| Italy Swiss France Netherlands with FREE Excursion to Mount Pilatus | 13 Days / 12 Nights | ₹ 189699.0 |
| Italy Swiss France with FREE Disney Land Paris experinece | 11 Days / 10 Nights | ₹ 154000.0 |
| European Odyssey | France Netherlands Switzerland Austria and Hungary | 13 Days / 12 Nights | ₹ 250878.0 |
| European Escapade | FREE Prague Tour | 13 Days / 12 Nights | ₹ 226500.0 |
Newly Added Switzerland Experience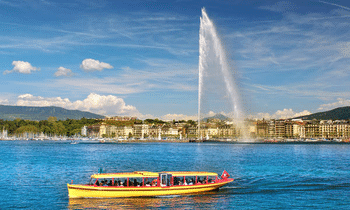 The Geneva Water Fountain (Jet D'eau)
The Geneva Water Fountain, also known as the Jet d'Eau, is an iconic and majestic attraction situated in Lake Geneva, Switzerland. Standing at an impressive height of 140 meters (459 feet), the fountain is one of the tallest water fountains in the world and serves as a symbol of the city's grandeur.Originally built in the late 19th century as a functional water supply for the city, it has since become a beloved tourist attraction, captivating visitors from all over the globe. The fountain's powerful jets propel water high into the sky, creating a mesmerizing spectacle that glistens in the sunlight and casts rainbows in the mist.The Jet d'Eau operates year-round, but its allure is especially enchanting during the evening when it is beautifully illuminated. The surrounding promenade offers stunning views of the fountain and the picturesque Lake Geneva, making it a popular spot for locals and tourists to stroll and relax.Whether admired from a distance or up close on a boat tour, experiencing the Geneva Water Fountain is a must for anyone visiting this charming Swiss city. Its beauty and grandeur leave an indelible impression, making it a memorable highlight of any trip to Geneva.Timings: 10:00 AM to 04:00 PMEntry Fee: No entry feeLocation: Quai Gustave-Ador, 1207 Genève, Switzerland
Read More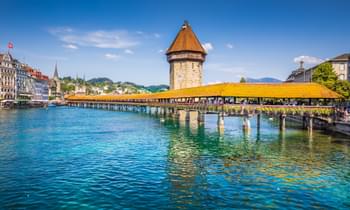 Chapel Bridge
The Chapel Bridge, located in the charming city of Lucerne, Switzerland, is one of the most iconic and historically significant landmarks in the country. Dating back to the 14th century, this wooden covered bridge stretches across the Reuss River, connecting the old town to the newer parts of Lucerne. What makes the Chapel Bridge truly special are the triangular paintings that adorn its interior, depicting scenes from Swiss history and mythology. These paintings, added in the 17th century, provide a fascinating glimpse into the region's past.The bridge also features a series of octagonal water towers, which were once part of the city's fortifications. The Water Tower at the end of the bridge is particularly picturesque, serving as a symbol of Lucerne's medieval architecture. Visitors to the Chapel Bridge can take leisurely strolls across its length, enjoying the serene views of the river and the surrounding cityscape. As one of Switzerland's most photographed landmarks, the Chapel Bridge stands as a testament to Lucerne's rich history and enduring charm.Best time to Visit- June - SeptemberEntry fee- Free
Read More