It is not for any small reason that Kashmir is called the 'Paradise on Earth' and the beauty of this land is ideal if you are looking for the perfect honeymoon destination. Make your special moments even more exciting by opting for the best Kashmir honeymoon packages from Ahmedabad by Thrillophilia. Make your vacation even more thrilling by availing some of the most remarkable deals and discounts of your tour with the Kashmir honeymoon packages from Ahmedabad.
Kashmir is a haven for young and old couples looking for an ideal background to have a stronger bond with each other. The rich natural splendor of the place manifested in its snow-capped mountains, valleys and variety of wildlife is just stunning. Some of the most awe inspiring monuments, romantic houseboats, and not to mention the hospitable people and local handicrafts, all come together to give you the best time here. With Kashmir couple tour packages from Ahmedabad you do not need to worry about other minor details of your trip and thus concentrate on the immense beauty of the place.
Hence, stop giving it any further thought and get set with the best Kashmir tour packages from Ahmedabad by Thrillophilia and traverse the splendid land.
Kashmir Honeymoon Packages From Ahmedabad
| Kashmir Couple Packages from Ahmedabad | Duration | Price |
| --- | --- | --- |
| Romantic Escapade to Kashmir Valley | 6 Days / 5 Nights | ₹ 21000.0 |
| Luxury in the Lap of Kashmir Valley | 5 Days / 4 Nights | ₹ 83999.0 |
| Kashmir Honeymoon Package with Pahalgam and Gulmarg | 5 Days / 4 Nights | ₹ 18000.0 |
| Honeymoon Tour to the 3-Jewels of Kashmir | 8 Days / 7 Nights | ₹ 29750.0 |
| Luxury Honeymoon Tour to Kashmir Valley | 7 Days / 6 Nights | ₹ 131500.0 |
People Also Ask About Kashmir Honeymoon Packages from Ahmedabad
Newly Added Kashmir Experience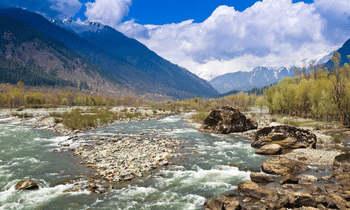 Lidder River
The Lidder River is a significant river in the picturesque region of Kashmir, India. Originating from the Kolhoi Glacier in the mesmerizing Himalayas, it meanders through lush green valleys and charming landscapes, making it a captivating sight for tourists and nature enthusiasts. The river's crystal-clear waters glisten as it flows through various towns and villages, providing a lifeline to the local communities.The Lidder River plays a vital role in supporting agriculture in the region, as its waters irrigate fields and orchards, contributing to the livelihoods of the people residing along its banks. Furthermore, it adds to the region's beauty and charm, drawing tourists from far and wide.The river is also a haven for adventure seekers, offering opportunities for activities like white-water rafting and fishing, adding to its allure as an adventure destination. Moreover, the serene surroundings of the Lidder River make it an ideal spot for picnics and leisurely strolls.However, the Lidder River is not just a source of joy and prosperity; it also has the potential to cause destruction during heavy monsoons, leading to floods in the region. Despite this, the river remains an integral part of the local culture and an enchanting natural wonder that continues to mesmerize all who encounter its tranquil waters and scenic beauty.
Read More