About Solang Valley
Located 13 kilometers from Manali, Solang Valley is nestled away between the Beas Kund and Solang Village. The valley is famous among tourists for its stunning views of snow-capped mountains and magnificent glaciers that attract ski fanatics from all over the world.

The beauty of Solang Valley is unparalleled and many people visit the valley every year just to enjoy its pristine, snow-white magnificence. Especially in winter, when the entire place is covered by fluffy, milky white snow, the whole place appears as if it is straight out of a movie. groves of emerald green trees dotting the pure white landscape, clear blue skies, and magnificent mountains as far as the eye can see – Solang is truly at its most splendorous in winters.

Besides admiring its unmissable picturesque landscapes, people also visit Solang Valley to enjoy various winter sports. Adventure enthusiasts love skiing in the pure, driven snow here, and when the winters ease off a little, you can also try zorbing and paragliding.

The views of the place from the open sky as you paraglide through the valley are truly indescribable and need to be witnessed to be believed. If you really want to get a full dose of the pristine beauty of this valley, try camping here amidst its lush green meadows.

You can also try other adventure sports like quad biking and snowmobiling in Solang Valley. For the true thrill chasers, there is Solang Ropeway – a state of the art cabin to enjoy the sweeping views of the valley. However, if you are traveling with family, there are several places you can check out too.

The Great Himalayan National Park, Kothi, and Rohtang Pass make for very interesting sightseeing places. Whether you go to Solang Valley with friends or family, there is a lot to explore and enjoy here.
How to Reach Solang Valley
You can reach Solang Valley via train, by air, and by road:

Via Train – the closest railway station to Solang Valley is Joginder Nagar Railway Station, which is located at a distance of 175 km from the valley. Once you get off the train at the station, you can hire a cab or taxi to reach the valley.

By Air – The Kullu Manali airport situated in Bhuntar is the closest airport to Solang Valley. It is 63 kilometers away from the valley, and you can take a cab or taxi to the valley once you get off the plane at the airport. It will take you anywhere between two and two and a half hours to reach the valley.

By Road – Solang Valley is very well connected to the rest of the country via a network of roads. In fact, there are a number of buses that go from Manali to Delhi on a regular basis. You can get a private bus if you want to be comfortable on your journey, or a state transport bus if you are travelling on a budget. If you want to take an overnight journey, you can also book a semi sleeper bus. Or if you don't mind driving, you can take you own car.
Best Time to Visit Solang Valley
Although Solang Valley looks magnificent and awe-inspiring throughout the year, the best time to enjoy the pristine beauty and unparalleled vistas of this place is between April and December. This is because the weather during this time is pleasant enough to partake in the various adventurous activities during this time.

Moreover, since the temperature is neither too high, nor too low – you can also go sightseeing around the valley and even to Manali during this time. However, if the primary goal of your visit to Solang Valley is to enjoy the various thrilling sport activities and winter sports like skiing, then it might be better to plan your visit during December and January.

This is because during this time, the valley sees tonnes of snowfall that will allow you to get the most out of these activities. Lastly, if your main goal is to soak in the mesmerizing views of this place via paragliding, it is best advised to visit the valley during the month of June, when the weather is pleasant enough to enjoy this activity.

It is also advisable to avoid visiting Solang Valley during the monsoon months, because you will not be able to go sightseeing or enjoy any of the activities at this time.
What Not to Miss at Solang Valley


Things to do in Solang Valley
Some of the most amazing things that you can enjoy in Solang Valley are:

1. Zorbing – What can be more fun than tumbling down the side of a village in a transparent sphere? Awaken the child inside you and enjoy zorbing in Solang Valley. A thrilling experience that must not be missed, zorbing is extremely cheap. At just INR 350, you get to experience an unexplainable sensation that you won't forget for the rest of your life.

2. Paragliding – This is one of the most fun things that you can partake in  in Solang Valley. In fact, the valley is quite famous for this activity. There are two jump stations for paragliding in Solang – a lower station and a higher station. Moreover, the activity costs only INR 600 to 800 - so you won't break your bank while having fun.

3. Camping – A comfy tent where you can curl up and gaze at the stars - that's what camping means in Solang valley. Enjoy sleeping under the wide-open sky and make a bonfire with your friends. Enjoy the views of the valley and walk through the hills at your leisure. If that sounds like your kind of thing, make sure you try camping in Solang Valley.

4. Quad biking – In case you are planning your trip to the valley in summers, you should definitely try quad biking. You can go on a ride yourself, or hire a driver. Quad biking, like other adventure sports in the valley, is not very expensive. You will be charged INR 900 to 1000 for this activity.

5. Snowmobiling – What could be more enjoyable than floating over the pure, driven snow and letting your inner child have fun? Costing around INR 500, snowmobiling is truly a very popular activity in the Valley.

6. Skiing – Skiing is one of the most adventurous activities that is so popular in the Valley that this place is often known as the skiing paradise of North India. You can enjoy this adrenaline-releasing sport at various levels. It is available for just INR 300 to people of all ages.

7. Solang Ropeway – Take a journey over the picturesque valley from the mountain top in a beautiful cabin and soak in the pristine views it has to offer. The cabin rides at a speed of 6 meters per second, and will take you to the very top of the valley. You can avail this service for just INR 450.


Attractions in and near Solang Valley – 

Here are some of the most wonderful places to visit near Solang Valley:

1. Rohtang Pass – one of the most popular places to visit in Himachal Pradesh, the Rohtang Pass is located in the heartland of the state. The picturesque views of the Himalayas are simply unmissable, and if you really want to enjoy the pristine natural beauty of the place, you can pitch a tent here and sleep under the stars.

The pass should be ideally visited between May and October, because the weather is optimum to cross the pass during these months. The pass is a gateway to some of the most stunning parts of the Himalayas – Spiti Valley and Lahaul.

2. Great Himalayan National Park – Located just a few kilometers away from the valley, this park is actually located in Kullu. The national park offers a perfect amalgamation of adventure and nature. There are several activities you can try here, like rock climbing, bird watching, camping, trekking etc. The park is located just 77 km away from Solang Valley and is definitely worth a visit.

3. Kothi – if you want to get away from the large hordes of tourists that often frequent Solang Valley, make sure you check out Kothi village. The charming place is just 5 km from Solang Valley, but offers respite from the hustle and bustle of city life in a way no other place can. Enjoy the calm and serenity of the village, explore the nature trails, and familiarize yourself with the locals. After all, it is one of the most offbeat and tranquil places to visit near Solang Valley. 
Other Essential Information About Solang Valley


Location: between Solang Village and Beas Kund, Manali, Himachal Pradesh, India

Entry Fee: no entry fee

Height: 2560 meters, or 8400 feet above the sea level

Solang Valley Snowfall Time: mild snowfall can be seen in the valley since the beginning of October. As the winter months progress, the snow levels increase, from November to January.

Distance from Nearest Airport: the nearest airport near Solang is Bhuntar town, which is located 63 km away from the valley.


History of Solang Valley- 

Solang Valley, also known as Solang Nala derives its name from a combination of two words – Solang and Nullah. Solang means 'nearby village' and Nullah means "water stream". Since the valley is comprised of magnificent slopes of lawn, it is quite famous as a ski resort.

Over the year, Solang Valley has gained a reputation among tourists as the ski paradise of North India, and you will find many ski agencies here offering courses for learning skiing. The valley is also popular for the delicious local tea that is sold here.


Paragliding in Solang Valley: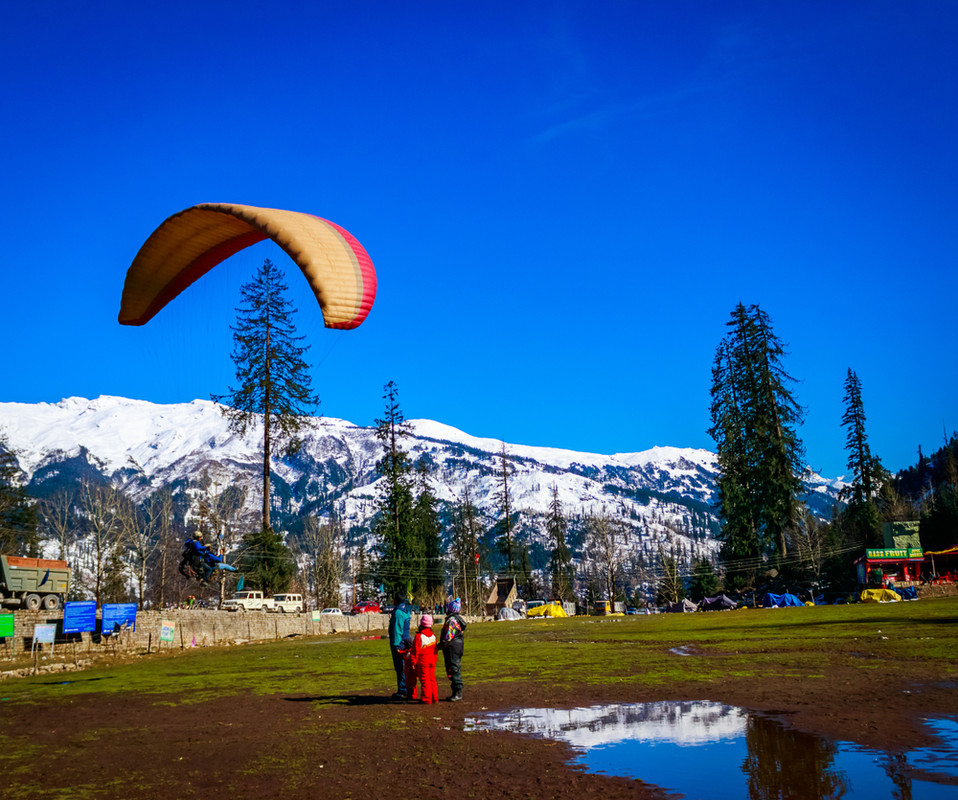 There is nothing that can compare to the joy of gliding through the beautiful valleys of the majestic Himalayan peaks, and paragliding in Solang Valley offers you precisely that.

If you are an adventure enthusiast and chasing a good adrenaline high seems like your thing, paragliding in Solang Valley will thrill and excite you like no other activity. The cold mountain breeze whipping through your hair, picturesque vistas that awe and delight you endlessly, and a 360-degree views of the majestic Himalayas – what more could you ask for?

Paragliding in Solang Valley allows you to leave all your troubles behind and fly like a bird. There are two jumping stations located in the valley, and you can pick the one on the lower level if you are not feeling especially adventurous, or you can pick the higher one if paragliding flows through your veins.

All this thrill and excitement for only INR 600 to INR 800 – paragliding in Solang Valley is a truly unmissable opportunity.


Places to Stay in and near Solang Valley- 
Here are some of the best places to stay near Solang Valley:
1. Club Mahindra Manali –
located in the charming town of Manali, this hotel is nestled amidst the lap of nature and offers some of the most stunning views of the mountains around it. There are grooves of apple orchards near the resort, so you will be able to soak in the views of golden and red apples from the resort too.
If you want to enjoy adventure sports for a couple of days in the valley, this is your best bet. Since the resort us easily reachable from both Chandigarh and Delhi, it is quite popular. Plus, it is only 50 km from the nearest airport, and offers many modern amenities like WiFi.
2. Club Mahindra, White Meadows –
located on the banks of the River Beas, this place offers stunning views of the Himalayan ranges. It is set amidst the lush green parts of the village, and all the rooms in the resort offer stunning views of the natural beauty all around.
The resort offers amazing hospitality and is equipped with all the amenities you could ask for, like, LCD TVs, gyms, spas, tea and coffee makers etc. There is also an in-house restaurant within the hotel where you can enjoy piping hot North Indian food.

3. Hotel Solang Holiday Inn – encircled by picturesque natural beauty that will awe and inspire you, and magnificent ski slopes – this place is ideal for people who are traveling on a budget. The cozy hotel offers modern amenities and comfortable stay without breaking your bank. Most of the rooms have balconies that have a clear view of the mountains too.


Places to Eat in and near Solang Valley – 

Here are some of the best places to eat near Solang Valley:

1. Solang Holiday Restaurant – one of the most famous restaurants in the region, it is a must-visit place if you get puckish during your visit to the valley. The cozy and comfortable décor, the friendly staff, and warm and delicious food will make you want to come back here again and again.

2. Manali Sweets – situated in the Siyali Mahadev Market, this place is famous for offering some of the best Indian sweets in the valley. And if you are also craving some hot samosas and masala chai in the cold weather, just head over here and get the most delicious snacks you will ever have in this region.

3. Pizza Olive – this international restaurant is popular in the region for some of the most well-crafted pizzas and pastas in the region. The décor is gorgeous too, and if you want to enjoy the views of the valley while munching on your pizza, they have options for seating outside too.


Tips for Visiting Solang Valley – 

Here are some of the most important tips to keep in mind before visiting Solang Valley:

1. Make sure you check the weather in the valley before you plan your itinerary.

2. Since it can get quite cold in the valley, you should keep some warm clothes with you before you go here. Alternatively, if you visit the valley during summer, you should pack light cotton clothes.

3. If you are visiting during peak tourist season, you should book a hotel before going.

4. To capture memorable shots of this picturesque place, make sure you carry a camera and pack extra batteries.

5. If you wish to continue your trip ahead and enter Rohtang Pass, you will have to get the permit for the same.