About Abbey Falls
Credits: Joseph D'Mello
One of the famous attractions near Madikeri, Abbey Falls is a great way to have a fun-filled day with your loved ones. Amidst the lush green surroundings of Western Ghats, Abbey Falls is a delightful place to visit when you are looking to escape from the hustle and bustle. A must visit for nature lovers and photography enthusiasts, Abbey Falls is one of the most attractive waterfalls in South India and also one of the best places in Coorg. Falling down from a height of 70 feet in the middle of a panoramic landscape, the tourists are sure to be charmed by the spectacle.
Joining river Kaveri, Abbey Falls is set amidst the verdant coffee plantations and known for its serene ambience. For the adventure lovers, it is a paradise for trekking and for those seeking solitude it is a great getaway to soak in peace in the realm of nature. Offering a great view from the hanging bridge, Abbey Falls is a place that you must not miss visiting while you are in Coorg and looking for a place to picnic or just relax and unwind. The waterfall is a tranquil spot to make the most of your holiday, especially during the monsoons with a number of thrilling activities to do.

History of Abbey Falls


Credits: Aparajith


Initially known as Jessy Falls named after the daughter of the first British Chaplain of Coorg, Abbey Falls has an interesting history. He was enthralled by the surrounding beauty of Abbey Falls and was overwhelmed by its verdant flora and fauna. However, after the independence of India, the waterfalls came under the control of the Government of India, Neravanda B. Nanaiah purchased the land from the government and established many plantations of coffee and spices around the place. The area has been private property and boasts of a panoramic landscape.

As the forests cleared up, Abbey Falls emerged out from the thick plantations amidst the forests. The sheer beauty of Abbey Falls is truly mesmerizing and attracts a number of visitors every year.
How to Reach Abbey Falls
Credits: rajagopal rajeev
The closest town to Abbey Falls is Madikeri which is located at a distance of 8-10 kms. The other cities like Mangalore and Mysore are located about 130 km away from Abbey Falls.
- By Road

If you are coming via Madikeri, you need to go through Galibeedu road to reach the falls and then walk for a while. If coming via Mangalore, Mysore or Bangalore, cabs or taxis are easily available for hire.
- By Rail

The nearest railway station to Abbey Falls is Mysore Railway stations. From there one needs to take a cab or hire a taxi to reach directly to Abbey Falls or go via bus upto Madikeri and then take local transport to reach Abbey Falls.
- By Bus

There are many regular KSRTC buses which one can find running from Bangalore, Mysore, and Mangalore to reach Madikeri which is the closest town to Abbey Falls.
Best Time to Visit Abbey Falls
Getting its waters from rivers like other waterfalls in Southern India, Abbey Falls is a non-perennial stream. If you want to witness Abbey Falls at its best, it is advised you visit during the time of monsoon. Therefore, the most suitable time to visit Abbey Falls is from July to October. However, this is the time when the falls become slippery and it is a little unsafe for tourists to visit.
What Not to Miss at Abbey Falls
Things To Do at Abbey Falls

Some of the most popular things to do at Abbey Falls are:
1. Cherish the breathtaking natural beauty:
It is known for its lush green surroundings and the gorgeous natural beauty. The view is spectacular and it is a delight to see the waterfalls cascading down from a height of 70 feet amidst a panoramic landscape making one of the most attractive waterfalls in South India.
2. Tour of coffee and cardamom plantations:
Offering a mind-blowing experience, tourists should not miss on taking a walk of the gardens of coffee, cardamom and other plantations around Abbey Falls.
3) Trekking
Hiking amidst the undulating terrains of Sahyadri range is one of the most mesmerizing experiences to look forward to at Abbey Falls. The trek lasts for about 15-20 minutes and offers an enriching experience. The adventurous activity will get your pulse racing and offers a wonderful escape from the humdrum affairs of life.
4) Photography
One should take the camera along and explore the breathtaking landscapes through the lens. The gushing white waterfalls present a very beautiful view and bring out the photography lover in all the tourists.
Other Places to Visit near Abbey Falls: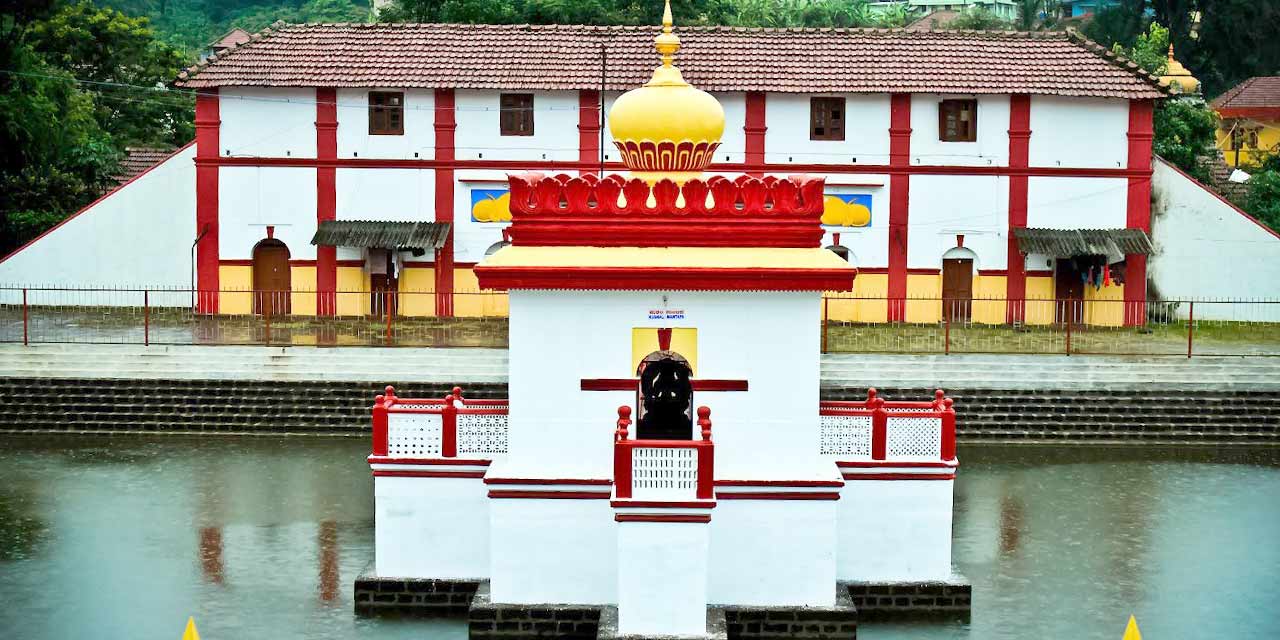 1. Nagarhole National Park
The prominent national park is one of the famous tiger reserves in India. Replete with a thick forest cover and has a population of exotic wildlife like tigers, gaur, elephants, Indian leopards, deer etc. For wildlife lovers, it is a must visit to enjoy a fun-filled recreational day.
2. Omkareshwara Temple
It is a popular ancient shrine that is dedicated to Lord Shiva. Built in a mix of Gothic and Islamic style, the temple attracts a number of visitors. The temple was built in 1820 by King Lingarajendra II as act of penance. It is one of the most peaceful places to visit near Abbey Falls.
3. Raja's Seat
Literally meaning the seat of the kings, Raja's seat is a spot not to be missed for soaking in some serenity. Originally a place where the king of Coorg used to enjoy the scenic splendour, Raja's Seat is one of the famous places to visit near Abbey Falls.
4) Irpu Falls
Also famous as Lakshmana Tirtha Falls, Irpu Falls is a picturesque waterfall that cascades along with the Brahmagiri Mountain range. Boasting of pristine cold waters, this waterfall is famous for its religious significance and sheer natural beauty.
5) Raja's Tomb
Raja's Tomb is a prominent tourist destination that contains the mortal remains of the royal Kodavas in Coorg. The tomb is built in the Mohammedan style and has an idol of Lord Shiva placed inside it. It is a great visit to admire the Indo-Saracenic style of architecture. The tomb dates back to 1820 and offers a nice retreat for all the history lovers.
6) Namdroling Monastery
Hailed as the largest teaching centre of the school of Tibetan Buddhism, Namdroling Monastery is often called the Golden Temple. Showcasing a brilliant example of Tibetan architecture and artwork, Namdroling Monastery.  One should go there to appreciate the ornate design and beautiful murals.
7) Madikeri Fort
Standing as an imposing fort on a hillock, Madikeri Fort is a nice place to visit when you are near Abbey Falls. The historical landmark boasts of a bygone era and offers one of the most picturesque views of the town. Some of the popular attractions to look out for in Madikeri Fort are its museum, District Prison, the Kote Maha Ganapathi Temple and the Mahatma Gandhi Public Library.
8) Galibeedu Trek
For the adventure lovers, Galibeedu Trek is an exciting activity to undertake during a visit to Abbey Falls. The trail boasts of beautiful mountains, lush greenery, gurgling streams and coffee plantations to leave every trekker spellbound. The trek difficulty level ranges from easy to moderate and offers an amazing experience for the adventure lovers.
9) Chingara Falls
Tucked beautifully between pristine natural landscape, Chingara Falls is a great place to relax and unwind. The enchanting waterfall is a sight to behold and offers an enthralling trek for every one of about 5 kilometers which will challenge you to the core.
Other Essential Information About Abbey Falls
Credits: Joseph D'Mello
Location: Abbey Falls is located in the Coorg region of Western Ghats in Karnataka. It is situated at a distance of 10 kilometers from Madikeri and about 122 km away from Mysore. From Bangalore, Abbey Falls is 268 km away. Situated amidst a landscape of coffee and spice plantations, Abbey Falls is one of the prominent tourist attractions around Coorg. After taking a walk for around 200 steps, tourists can reach Abbey Falls.

Timings:  One can visit Abbey Falls on any day of the week as it remains open for all seven days. The timing for visiting the waterfalls in from 9 am to 5 pm.
Entry Fee: The tourists can get entry to Abbey Falls by paying an amount of INR 15 per person.
Height: Cascading from a height of 70 feet, Abbey Falls is a sight to behold in Coorg. It is encompassed by lush greenery and offers a spectacular view that will not let your attention hinder. After many streams combine, the waterfalls forms and flow together to join River Kaveri on the land. The flow of the waterfall increases during the time of monsoon.
Tips For Visiting Abbey Falls
Credits: GimpRider
One should check with the local driver about the water availability and crowd density at the waterfalls if you wish to know in advance for having lesser crowds and an enthralling water flow during your vacation.

Tourists are advised to carry water and food as there are not many places where along the way to the falls and the walk can be excruciating. One can find places to eat at the stalls near the parking lot.

Have an eye for leeches as they are very common in the wet forests. You should carry salt in case you get stuck by a leech. One should wear closed shoes and exercise caution while going for a walk. Also, if you are going during monsoons it is necessary that you look out for slippery steps.

Keep your medical aid handy when you are climbing the stairs as there could be an instance where you suffer from breathing issues. It should also be noted that bathing in the waterfalls is not allowed for various safety reasons.
Places to stay near Abbey Falls
1) Palm Era Resorts
Offering an exotic vacation, Palm Era Resorts is a budget property that boasts of rustic cottages and offers a surreal escape from city life. Offering all the modern amenities, Palm Era Resorts is a nice place to escape the mad rush and have a nice vacation.
2) Green Vista Homestay

Book this homestay to soak in some delightful views of the surroundings. The homestay offers two bedrooms that is a great pick for couples and family vacationers looking for a place to stay near Abbey Falls. The property offers all the modern amenities like television, drinking water, seating area, etc.
3) Heritage Resort Coorg

Situated on the hills of Galibeedu, Heritage Resort Coorg is a 4-star property and near to all famous tourist attractions. It boasts of spacious decorated rooms and offers modern conveniences to the guests. Other facilities offered at Heritage Resort Coorg include a swimming pool, Ayurveda center, and indoor game facilities. 
4) Down's Retreat, A Golf Resort

Encompassed between evergreen forests, Down's Retreat is a beautiful place to stay near Abbey Falls when you are on a vacation. It is famous for its well-designed rooms that are equipped with all the modern amenities. Other popular features of Down's Retreat include a great in-house restaurant that serves sumptuous food.
5) Maxima Resort

Surrounded by breathtaking natural beauty, Maxima Resort is a nice way to escape all your worries. The place is an oasis of peace where you can relax in their beautiful rooms and enjoy a number of amenities at your convenience.
6) Club Mahindra Madikeri Resort and Spa

Set amidst a beautiful landscape, Club Mahindra Madikeri is a wonderful getaway to enjoy a great vacation with your loved ones. The hotel is designed in Coorgi style and offers three categories of rooms for the convenience of the tourists. Other popular amenities offered at the hotel include two swimming pools, a gym, three restaurants, a lobby lounge, a luxurious spa and bar, and plenty of avenues for activities in the Holiday Activity Centre.
Places to eat near Abbey Falls
1) Shanthi Bites

Serving fantastic food, Shanthi bites is a classic restaurant near Abbey Falls. The different cuisines available here to treat the taste buds include North India, South Indian, European, Chinese and Tibetan.
2) Raintree

Located in a 140-year-old heritage building, Raintree is a multi-cuisine fine dining restaurant in Coorg. The range of cuisines offered at Raintree include the Coorg specials such as the famous Pandi curry and also Oriental, Indian, South Indian, Tandoor and Coastal cuisines.
3) Hotel Neel Sagar

Serving pure vegetarian food, Hotel Neel Sagar is among the most popular places to eat near Abbey Falls. They serve nice food in North and South Indian cuisine and also offer great service for the customers.
4) Athithi

It is a veg restaurant in Madikeri that serves delicious food and offers good service. A great budget option, Athithi is hygienic and value for money restaurant near Abbey Falls.
5) Caravan-Multicuisine

This is a nice family restaurant with a beautiful ambiance and outdoor seating space. They specialize in serving lip-smacking food items like North Indian, Chinese, Tandoori, Grills, Local Cuisine, Shawarmas, etc.