If you are looking forward to spending your special honeymoon trip in the exotic archipelago of Lakshadweep, you have come to the right place! Thrillophilia offers a vast collection of beautifully crafted Lakshadweep honeymoon packages from Nagpur that come along with plenty of exciting deals and discounts. All these Lakshadweep couple tour packages from Nagpur are perfectly tailored to suit your honeymooning mood and requirement.
Soothingly beautiful and spellbinding, Lakshadweep serves as a great honeymoon destination. Shimmering sand, shining waters, luxurious resorts, gorgeous beaches, warm locales, and thrilling activities - the place has everything one could ask for a remarkable honeymoon experience. Hopping through the different islands and partaking in the umpteen varieties of couple-friendly water activities in Lakshadweep allows the couples to strike a chord of love between them and their partner amidst the luscious greenery and turquoise blue waters. No matter whether you are a pair of wildlife-enthusiastic souls or a nature-loving couple, Lakshadweep gives you a chance to witness the rich aquatic life through fishing, scuba diving, and snorkeling with the help of Lakshadweep honeymoon packages from Nagpur.
So, do not wait further and find the best romantic Lakshadweep tour packages from Nagpur to give yourself an angelic tour with your sweetheart for an uncompromised honeymoon experience.
Lakshadweep Honeymoon Packages From Nagpur
| Lakshadweep Couple Packages from Nagpur | Duration | Price |
| --- | --- | --- |
| Cordelia Cruise | Mumbai-Lakshadweep-Mumbai | 5 Days / 4 Nights | ₹ 43218.0 |
Newly Added Lakshadweep Experience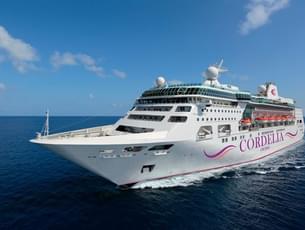 ₹ 70,732
₹ 43,218
per room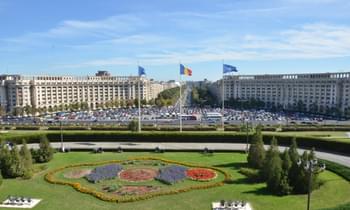 Palace of Parliament
Originally built under the dictatorship of Nicolae Ceauseșcu, this is a massive project that is today among the most important places to visit in Romania. Rich in Romanian history, this place is extensively decorated with embroidered carpets, patterned ceilings, handwoven drapes and marvelous marble floors.It was initially built as a protective measure from nuclear attacks and thus comprises eight underground levels including an atomic bunker apart from the 12 stories above ground. Standing tall as a reminder of the communist rule, this palace hosts the Parliament of Romania today. You can also see the famous National Museum of Contemporary Art here. Being one of the most important tourist spots in the city, you can also take a guided tour of the famous building that will give you a chance to learn more about the rich past of this place.
Read More

Gajbaahu Kakkar
Lakshadweep Tour Package From Kolkata
Lots of fun we had on this tour, especially in boat-ride, parasailing & snorkeling...The place has a beautiful ocean, beaches, and lush greenery...The sightseeing tour was impressive...Our guide was always there to help us and explained things in detail...Worth-it tour
Divakar Bhattacharya
Lakshadweep Tour Package From Kolkata
Really we had the best experience with Thrillophilia and Lakshadweep... (1) Thrillophilia organized the tour with perfection from the itinerary, all inclusions, time duration, and at the affordable price with hassle-free booking... (2) Lakshadweep is a paradise... The island tour was amazing with the various activities we had... Most importantly the stay and foods we had were extremely good. KUDOS

Durgeshwari Ganaka
Lakshadweep Tour Package From Kerala
An unforgettable experience in this Paradise! Everything went smoothly right from the beginning to the end...Overall the itinerary was SUPERB...

Gautami Guha
Lakshadweep Tour Package From Kerala
Highly Recommend Thrillophilia to all my family & friends, This Lakshadweep Tour Package From Kerala was simply amazing... The place has nice views of the island, ocean, beaches, and greenery surrounding, We had great sightseeing and indulged in various water-based-activities...The hotel they booked for us was a good hotel at this place... The entire trip was hassle-free and very memorable.

Mahesh Arora
Lakshadweep Tour Package From Kerala
The scenic beauty and serene atmosphere of the place already win our hearts...Regarding the accommodation, transportation, and their service were extremely nice. This is the tour which worth every penny I paid. The adventure here was never to be forgotten.

Shridevi Dhawan
Lakshadweep Package From Delhi
I had a sheer fun vacation of five days planned by Thrillophilia and I almost did all the activities, & loved snorkeling the most. I believe if you go Lakshadweep and return without doing any sea activity then you are just wasting your vacation. It is such a great place for scuba diving, snorkeling or other sports. I enjoyed a lot!

Gotum Dutta
Lakshadweep Tour Package From Kolkata
Me and my friends are ardent travellers and Lakshadweep was really an unplanned trip.We had really enjoyed the time we spent there with this package. We are very thankful to the guide who took us everywhere and it is a worth visiting location.

Ghanaanand Bandopadhyay
Lakshadweep Package From Kochi
Booking tour packages from Thrilophilia we landed up in this dreamy destination to double up our love. And to our surprise, everything went on smoothly as we had thought. We would thank each one of the team members for making our days blissful.

Devagya Jain
Lakshadweep Tour Package From Kerala
The trip was very cost-effective and covered almost everything. We would surely recommend thrillophilia to our friends.
Girindra Sethi
Lakshadweep Package From Bangalore
Tour was well coordinated without any hiccups...neither vehicle availability or guidance. Everything arranged was top notch from pickup to food provided