Digha is a famous coastal resort town that is touted to be one of the best places to visit in West Bengal. It is highly renowned for its untouched shallow sand beaches and religious temples. It is situated only one eighty-seven kilometres away from Kolkata and is touted to be the most famous weekend getaway for families. This lively town is untouched by commercial exploitation and helps you enjoy the joy of nature in the best way possible.

The tall palm trees and exquisite flora and fauna of this region make it a genuine wonderland. The vast stretch of the beaches of Digha will leave you rejuvenated at just one site. Thousands of tourists visit this town every year due to its lush greenery and verdant allure of nature.

Digha is the favourite destination for the beach lovers as it is home to some of the most beautiful beaches in India. New Digha Beach is one of the most popular tourist attractions in Digha with swinging palm trees and a long stretch of sandy beaches. Talsari Beach and Shankarpur Beach are also the other famous beaches in Digha, where tourists flock in a vast number to relax and unwind from the grind of life. Chandeshwar Temple is another popular tourist destination over here that is a sanctum of spiritual belief and divinity.

There are ample of things that you can do in Digha for a fun-filled vacation. From having delicious seafood at the beach shacks near the beaches to enjoying boating and ropeway riding at Amaravati Park, there are tons of things that you can try at Digha. You can even enjoy a scenic trail at the forests and gaze into the underwater beauties at the marine aquarium.

Digha experiences a scorching and uncomfortable temperature during summers. The average temperature during summer ranges up to 37 degrees Celsius. Winter is the best time to visit Digha, and the average temperature reaches up to 20.4 degrees Celsius. Monsoon season ranges from July to September, and during this season, Digha receives 59.8 inches of average rainfall per year.
Read more
---
Explore New Digha
Kolkata, The City of Joy, the cultural hub of India, this particular city has been called by so many names by people who have come and fallen in love with the place. Kolkata is known for its history and for being the city of Rabindranath Tagore, Satyajit Ray, and many more legends who have put India on the world map. If you are visiting India and touring the country then this is one city that you must include in your plan. Kolkata is also comparatively more affordable than most big cities of the world. It has no shortage of joy, warmth, and peace to embrace you with; and there is no dearth of tourist places in Kolkata, thanks to its rich history and culture.


Kolkata is one of the most populated cities of India, but that's a good thing for you as a traveler. Diversity is Kolkata's finest characteristics; hence, you will get to meet people from different culture and with different stories. Food, music, culture, literature, everything about this city is so rich and intellectually fulfilling. The city so perfectly combines the comfort of a metropolitan and the nostalgia of a place that has been through multiple cultural and social revolutions. It has the country's oldest museum where you can see, among other things, the only mummy in India. Kolkata used to be one of the most important cities politically during the British rule, which has resulted in architectural influences. You can experience them with The Victoria Memorial, Fort William, Writer's, and many more such historical buildings.

If you are a religious person then Kolkata has a lot to offer you too. Some of the world's oldest and most popular temples, churches, and masjids are located in and around this city which are some of the most important tourist places in Kolkata. You can go on a day tour of all the religious places while enjoying the street food during your breaks. Include a visit to the Ganges River in the plan to complete the tour.



Read more
---
₹ 6,200
₹ 3,500
per adult
₹ 12,805
₹ 10,500
per adult
Explore Kolkata
Varanasi, a city that oozes charm and mesmerizing beauty, is amongst the holiest cities in India and arguably in the world. With a massive number of temples, shrines, and ghats, for anyone who seeks the blessings of the almighty, Varanasi, should be at the top of their priority list.

Known as Lord Shiva's City, this majestic place has a distinct essence in its soothing surroundings, which would certainly leave any visitor spell bounded. Many people from all over India visit the shores of the pious Ganges River and take a holy bath, which is believed to banish all the sins from the body and soul.

If you are visiting Varanasi any time sooner, then boat riding at the holy Ganges river should be at the top of your bucket list. This would be an unforgettable experience of your life as the picturesque views from the rides have a charm of its own.

The stunning panoramic experience of temples and practices of Hindu rituals would harmonize your heart and soul. You should also attend the glorious Aarti sessions at the Ganges River. Spiritual chants and the essence of aromatic surroundings will be an ideal experience if the person wishes for a calm and serene place to cherish.

This divine ceremony is even enhanced in magnitude when witnessed at the Dasaswamedh Ghat. The use of heavy brass lamps for the ceremony makes the experience even more satisfying.

Another important landmark of Varanasi popularly known as Sarnath is renowned as the place where Lord Buddha illustrated Dharma. It is amongst the most prominent Buddhist sites all around the world. You can also witness the humongous pillar of Dharmekh Stupa. Also, the visual brilliance of the Ashoka Pillar would be a treat to your eyes. Varanasi is truly an alluring site that captivates travelers with its holiness and tranquility.
Read more
---
₹ 11,300
₹ 7,200
per adult
₹ 8,566
₹ 7,100
per adult
Explore Varanasi
---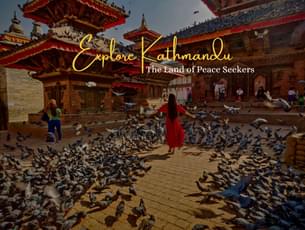 Starting from
₹ 20,350
₹ 14,499
per Adult
Starting from
₹ 38,000
₹ 28,499
per Adult
Starting from
₹ 42,000
₹ 31,499
per Adult
Lying in the magical realm of the Himalayas, Kathmandu is the capital city of Nepal. Being the largest city in the country, the city has no dearth of tourist attractions to fascinate tourists with. People from all around the world visit this tourist destination to find peace and quiet. But, the most important factor that makes Kathmandu a major tourist destination in the region is that it is a part of the kingdom of Himalayas, which ensures a memorable holiday experience.
Kathmandu is a destination where you find peace and comfort which makes it a perfect destination for relaxation. There are resorts in Kathmandu where you can enjoy luxury amenities and all comforts at very affordable tariffs. Waking up to crisp breeze and fiery sunrises, ensuring a day filled with joy and ecstasy; and treating your eyes with magical dusks when the setting sun adds various tones to the sky – such experiences are not uncommon in Kathmandu. The fresh air and the refreshing greenery of the city are exactly what you need to rejuvenate your body and soul.
The city of Kathmandu has held within its ambit uncountable treasures for only explorers to unveil. Whether you wish to cover all the major attractions in the city during your visit or want to tread beyond the beaten path to explore the unexplored, Kathmandu has enough in store for you. Apart from being a place with rich natural biodiversity, Kathmandu also boasts a rich cultural scene with a perfect amalgamation of Buddhist and Hindu cultures. The spectrum of religious places in Kathmandu covers a number of Hindu Temples as well as vibrant Buddhist stupas. The presence of these marvellous structures in Kathmandu makes it a treasure trove of architectural masterpieces. Any architecture buff is sure to have some enjoyable moments in Kathmandu.
Since Kathmandu is located amidst Himalayas, you can be sure of witnessing some visual treats when you are here. Some of the most prominent mountains that add grace to the landscape of Kathmandu are Ganesh Mountain and Langtang Mountain ranges. However, if you move a little further to the nearby places like Nagarkot and Chisapani, you can even get to witness the mightiest of all – Mount Everest and trek to the Everest base camp. That is also the reason why Kathmandu can be found on any photographer's bucket list, especially in Asia. It is, without a doubt, a scenic place and the landscapes that surround it are perfectly picturesque. Indulging in landscape photography here is definitely going to be a great decision for your Instagram handle.
Kathmandu is also a great choice of destination for adventure junkies as some of the greatest Himalayan treks have their trails lying close to the city. Just visit Kathmandu and embark on a journey of solace and self-discovery in the higher mountains where adrenaline-pumping action awaits you to fill your mind with thrill. However, the list of adventure activities in Kathmandu also covers various other activities like paragliding, boating, camping, and wildlife tours.
The days never get too warm even during summers and the nights do not get too cold even during winters in Kathmandu. The city enjoys an elevation of 4,590 feet, which guarantees a pleasant climate throughout the year, making it an ideal destination for tourism at any given time. However, it is best to visit Kathmandu in October or November because during these months, the skies are clear, the landscapes become verdant and climate is perfect.
Read more
---
₹ 24,400
₹ 18,750
per adult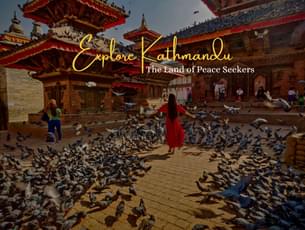 ₹ 20,350
₹ 14,499
per adult
₹ 38,000
₹ 28,499
per adult
Explore Kathmandu
A quaint town at the foothills of the Himalayan ranges, Siliguri is a postcard-perfect amalgamation of urban culture and natural beauty. The picturesque city is endowed with the best of nature, full to the brim with its rolling green tea gardens and the snow-clad Himalayan mountaintops peeking into the horizon at a distance.

Owing to its rich wildlife population, tourism in Siliguri is synonymous with its wildlife safari facilities. The vast Mahananda Wildlife sanctuary, sprawling between the banks of Teesta and Mahananda, is home to a number of species of animals and birds, and also provides its guests ample opportunities for trekking and bird watching. The sanctuary also houses the North Bengal Wild Animals Park, where tourists can avail jeep rides to watch the animals play and be in their natural habitats.

A major tourist attraction in Siliguri is the Salugara Monastery, famous for its 100-feet stupa built by Tibetan Buddhist Monks. The monastery, known as The Great International Tashi Gomang Stupa, is situated only 6 kms away from the main town and houses five major Buddhist relics, making it one of the most popular Buddhist monasteries in the world. Siliguri, however, is not negligent to other faiths. One can also find here the magnificent ISKCON temple dedicated to Lord Krishna, and Kali Mandir which welcomes a number of pilgrims each year.

If one is looking to shop in Siliguri, the Hong Kong market on Hill Cart Road is the place to go. A flea market selling goods at a fairly cheap rate, the Hong Kong market is a popular go-to place for tourists and is thronged by shoppers throughout the year.

The best time to visit Siliguri would be during the winter months between November and February when the weather is fairly cold and outdoor activities such as trekking, safaris, and bird-watching can be enjoyed in a humidity-free atmosphere.

Siliguri is well connected to all nearby cities in West Bengal by road and rail. The Siliguri railway station is the main junction of the town. The Darjeeling-Himalayan toy train, a world-famous attraction, can be availed from Siliguri junction if one desires to travel to Darjeeling from here. The nearest airport to Siliguri is the Bagdogra airport, from whence one may avail buses or cars to reach the place.
Read more
---
₹ 44,849
₹ 32,499
per adult
₹ 70,547
₹ 62,500
per adult
Explore Siliguri
Jalpaiguri is a district in the northern part of West Bengal which shares its borders with two countries, namely Bhutan in the north and Bangladesh in the south. During the partition of India, after independence, a part of Jalpaiguri district went into East Pakistan, now Bangladesh. Jalpaiguri also has a significant Nepalese population being very close to the country. Jalpaiguri experiences a huge exodus of tourists each year owing to its exquisite landscapes, serene river banks, rolling tea gardens and for housing two of India's popular wildlife sanctuaries - Gorumara National Park and the Chapramari wildlife sanctuary. Several tourists come to Jalpaiguri just to wade through the dense forested lands on elephant back and view the wide variety of flora and fauna here.

In fact, Jalpaiguri ranks second in the list of popular places to visit in West Bengal. This picturesque place has small villages which offer unique scenery depending on their strategic location. Chalsa is one such village which is ethereal and looks like a painting on canvas. It is the place from where the beautiful tea gardens in Dooars can be viewed. In order to enjoy sightseeing in Jalpaiguri, winters are the best time. Between October to March the temperature is pleasant, slightly on the cooler side but that makes it ideal for trekking, do a safari, or simply to rest in the river-studded valley. Temperatures here rarely drop below 5 degrees and it is also the best time to view the animals in the wilderness.

Those who come to Jalpaiguri to view several exotic species of birds, must not miss these months, as the winged friends are at their resplendent best in the season. Bagdogra International Airport is the closest airport to Jalpaiguri and there are a number of taxis and reserved cars available from the airport to reach Jalpaiguri. There are multiple trains from Kolkata and other nearby cities which run daily to the Jalpaiguri Road Station. Siliguri, also an important city in North Bengal, is well connected to Jalpaiguri through multiple buses plying at regular intervals in the day between them.
Read more
---
₹ 12,450
₹ 9,250
per adult
₹ 16,334
₹ 14,700
per adult
Explore Jalpaiguri