12 Adventure Experiences in Asia That Should Be On Your Bucket List
Quick Jumplinks to Navigate
If you are an adrenaline junkie looking at options for Adventure Experiences in Asia, you definitely won't be disappointed. The huge continent is packed with some known and some hidden spots which will more than quell your thirst for adventure. From the tallest mountains to the depths of the oceans, Asian adventure awaits those who are brave enough to come looking for it.
You can walk on virgin landscapes of Nepal on a trip to Everest Base Camp or jump off of cliffs in the Philippino jungles of Cebu. From surfing some of the world's most challenging waves at Padang Padang in Bali to surfboarding the colourful sands of Mui Ne, Vietnam, Asia is an ever-changing myriad of never-ending adventure.
Whirlwind roller coaster rides, surreal swimming experiences with sharks, a walk in the canopies of untouched forests and kayak rides amidst wild rapids; there is an adventure awaiting everyone! Simply hop on a plane and go find your Asian adventure!
Following are the 12 adventure experiences in Asia that should be on your bucket list:

1. Everest Base Camp Trek, Nepal
Thrill-seekers across the globe know Everest as one of the most, if not the most daunting mountaineering experience on the planet. A trek to the Everest base camp of this majestic giant, suspended at a height of 17,590 feet above sea level, is an experience in itself. This trek is as extraordinary as the Everest itself.
You will walk through beautiful scenery, surrounded by blue, black, and grey snow-capped mountains. You will also pass through the small villages nestled around the slopes, untouched by time, and the Buddhist monasteries perched on mountain-faces. The trek offers an intimate look into the lives and culture of the Sherpas at the mountains which they have called home for centuries.
Location: Everest Base Camp Trek, Nepal starts in Lukla and passes through Kumbu Valley to reach the Everest Base Camp on the south side of Everest.
Timings: The best months to visit Everest are from February to May and September to December.
Price: The 12-15 days long trek costs anything between USD$1,200 to $5,000 and includes permits, round trip flights from Kathmandu to Lukla, accommodations and meals.
Starting Point of Trek: The actual trek starts from Lukla, but the overall journey starts from Kathmandu.
Ending Point of Trek: Everest Base Camp
Length of the Trek: 130 kilometres.
Also Read: Best Places to Visit in Nepal
2. Dragon's Back Mountain Hiking in Hong Kong

Away from the skyscrapers and cloud-touching buildings, the Dragon's back trek brings out a surprisingly different experience for the travellers. Counting as the favourite pastime of the locals, hiking these untouched forest-covered hills brings in loads of thrill for adventure seekers. Lace-up and wander around the urban sprawl set against the spectacular view of the shoreline, to spend a day out on the hiking trail amidst the flora and fauna.
Taking you through the challenging mountains and breathtaking views, this 4-hour adventure travel in Asia speaks highly of the glorious Chinese vegetation. Make sure you take a halt on your way down at the Tai Long Bay to admire the beauty of nature at the white sandy beaches helping you to replenish your energy, away from the exhausting and monotonous life.
Location: Southeastern Hongkong Island
Timings: Open 24 hours
Price: INR 3500
Starting Point: To Tai Wan
Ending Point: Big Wave Bay
Length/ Duration of Trail: 4-5 hours
Also Checkout: Alluring Places to Visit in Hong Kong
Suggested Read: Amusing and Fun Things To Do in Hong Kong

3. Flight of the Gibbon in Chiang Mai, Thailand

Dense, tropical rainforests of Chaing Mai have captured the imagination of many holiday-makers in Asia and across the world for a long time. Flight of the Gibbon in Chiang Mai is a zip-line adventure at Mae Kampong Village which takes you to the heart of these very ancient jungles. The zip-line offers you close encounters with many of the wild denizens including the endangered gibbons.
You can enjoy aerial views of the green foliage as you zip past the frolicking gibbons in tree canopies on Asia's longest single zipline. The zip-lines cover a wide area and take around two hours from start to finish. Flight of the Gibbon is one of the most sought-after destinations for adventure travel in Asia which can be enjoyed by the entire family.
Location: 106 Village, No. 3, Huai Kaeo, Mae On District, Chiang Mai 50130, Thailand
Timings: Daily: 6:00 AM – 11:00 PM
Price: USD$139
The distance of the ride: 5 Km.
Know More: Amazing Things to Do in Chiang Mai
4. Cliff Jumping at Cebu, Philippines

The thrill of letting yourself free fall before landing in the gushing waters is unparalleled and when paired with pristine Phillipinean landscape, the experience becomes simply unforgettable. Cebu is home to some of the exhilarating cliff-diving adventures in Asia. The rugged cliffs and shocking blue waters surrounded by thick green foliage make for some adrenaline-pumping dives.
The highest of the cliffs climb over 60 feet in height, providing excellent opportunities for a jump. The canyons that stretch between Alegria and Kawasan in Cebu offer dozens of jumping spots, each varying in height, difficulty and topography. When looking for cliff diving, Cebu must be on your map of adventure travel in Asia!
Location: Santa Fe, Cebu, Philippines.
Timings: Open 24 hours a day.
Price: USD$40
Height of the Cliff: 60 feet jump at Kawasan Falls.
5. Bungee Jumping at Macau Tower
Adventure Travel in Asia offers all kinds of thrills and bungee jumping at Macau Tower is as extreme as it gets! Standing at a staggering height of 764 feet, the Macau Tower is the highest of its kind on the planet. Simply let yourself fall off the edge, literally, and enjoy the sensation of flying as you take in bird-eye views of the city.
If you want to dive into the city of twinkling lights below you, then you can choose to make your jump in the evening. The views of illuminated water blurring past your vision as you free fall, add to the surrealism of the experience.
Location: Macau Tower Convention and Entertainment Center
Timings: The timings are as follows:
– September – June: 11:00 AM – 9:00 PM
– July – August: 10:00 AM – 10:00 PM
Price: USD 499 per person.
Elevation & Speed: 764 feet above the ground with speeds that reach 75 kilometres per hour.
Do's and Don'ts: Following are the regulations you must follow:
– Make sure to book in advance
– Wear comfortable clothes
– Make sure to tie your laces or go bare feet
– Trust the jump instructors
– Do not overeat before the jump
Must Read: Amusing Places to Visit in Macau
Also Check: Fun Things to do in Macau

6. Sandboarding in Mui Ne, Vietnam
Surf the unruly sands of Mui Ne as you venture down crumbling slopes in a visually intoxicating landscape. From white, yellow, grey, red to pink, the sand at Mui Ne changes hues every few metres. The colour of the sand is not the only thing which makes sandboarding at Mui Ne exciting. The dunes also change in shape and size with the blowing winds, offering surfers a unique experience every single time.
You can also plan your trip to Mui Ne to align with a sunset or a sunrise and enjoy spectacular views of the landscape as you sit on the dunes. Out of all the adventure activities in Asia that you might try, sandboarding in Mui Ne is probably the most quirky, rewarding and photo-friendly!
Location: Vòng xoay, Đường Võ Nguyên Giáp, Mũi Né, Thành phố Phan Thiết, Bình Thuận, Vietnam
Timings: Daily: 6:00 AM – 6:00 PM
Price: Jeep ride to the site costs $10 and sand-duning is free.
Duration: 2-6 hours.
7. Off-Road Motorbike Tours in Laos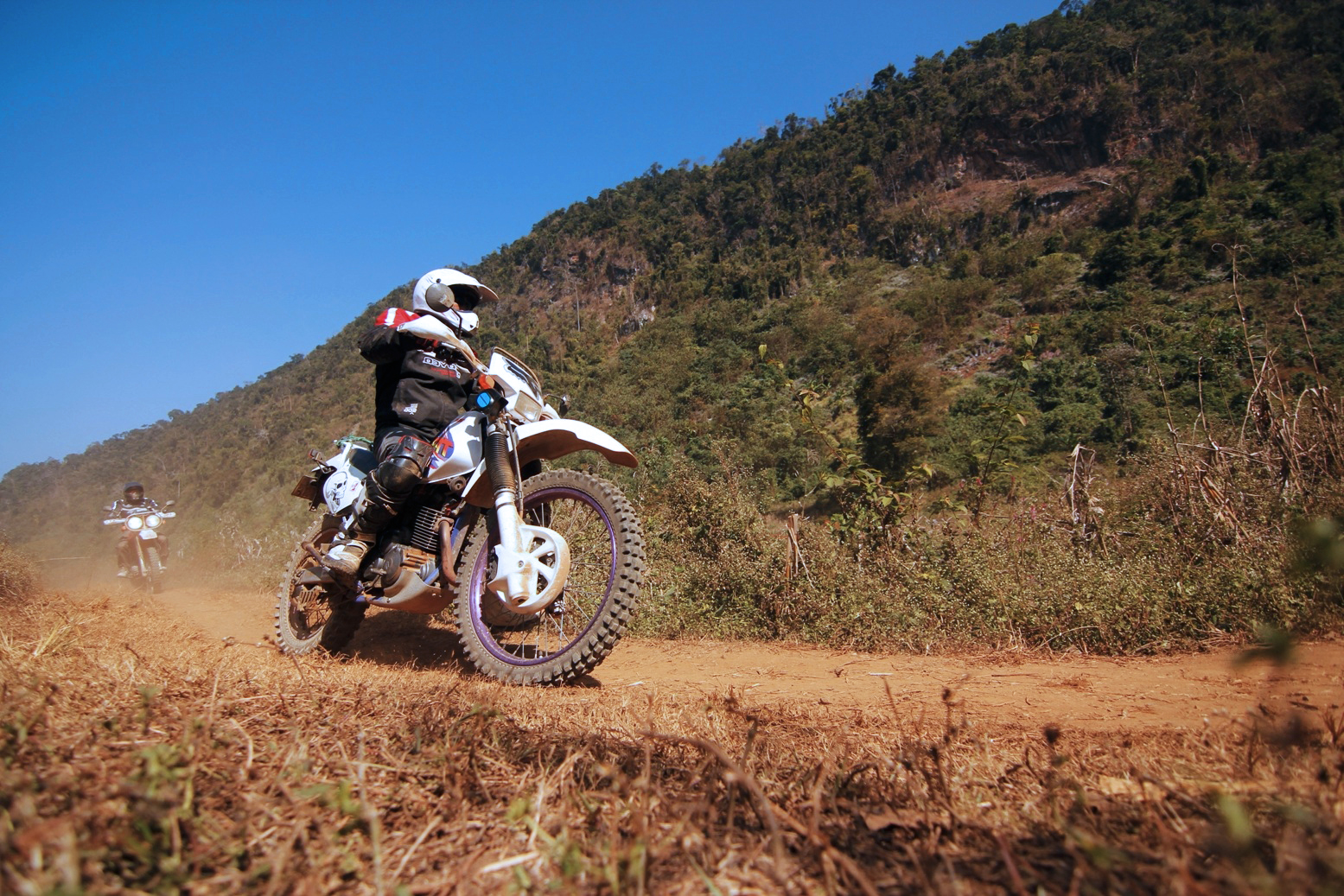 Laos is a land lost in time and a favourite destination for adventure travel in Asia. The rugged landscape of the country sits mostly untamed, hearkening explorers to test their endurance as they unearth new adventures. Motorbike off-roading tours traverse the length and breadth of this pristine land, providing opportunities to cover mountain trails, be welcomed into remote lands of local tribes, cross bamboo bridges or wild rivers on locally designed rafts, all with your favourite beast!
Off-roading in Laos is not confined inside the country's borders and you can opt for a package which includes other countries like Vietnam and Cambodia as well. Just mark your trail and choose your ATV to get started on the adventure of a lifetime!
Location: Chaosomphou Road 29/2, Luang Prabang, Laos (for ORLA tours)
Timings: Open throughout the day.
Price: Start from USD$25,000.
Starting Point: Luang Prabang
Ending Point: Luang Prabang
Length / Duration of Activity: 5 days and 785 kilometres.
Popular Read: Exciting Places to visit in Laos

8. Swim with Hammerhead at The Magnet, Belongas Bay, Indonesia
The Magnet is a world-renowned diving site in Indonesia and offers one of the most bone-chilling adventure activities in Asia. The rough waters and strong currents pose a challenge as you dive into the blue to swim with the majestic Hammerhead sharks. This dive site in Belongas is far-removed from the resorts and allows only experienced divers with advanced certification to take a dip into the waters.
The magnet is the farthest and most well-known dive site in the Belongas Bay and involves a half-an-hour long boat ride before you can go for the jump. The underwater world is filled with not only hammerhead sharks but also white and blacktip sharks, sea snakes, untouched corals and unpredictable currents!
Location: Teluk, Jl. Raya Sepi, Buwun Mas, Central Sekotong, West Lombok Regency, West Nusa Tenggara 83365, Indonesia
Timings: Daily: 7:00 AM – 8:00 PM
Price: Start from USD$40.
Duration: 6 hours per day on average.
Also Read: 101 Best Places to Visit in Indonesia
Must Check: Best Things to Do in Indonesia


9. Padang Padang in Bali, Indonesia
Surfers travel the world in search of challenging surf locations and Padang Padang in Bali might as well be described as the mecca of surfers in Asia. Home to one of the world's most dangerous surf breaks, Padang Padang keeps the surfers coming back for more.
Padang Padang offers a long, hollow but steep wave that breaks over a shallow section of the reef, riding which is a dream for adventure surfers worldwide. On a good day, surfers can expect to barrel for up to 50 metres! The open, white sand beach on one side and crystal clear waters on the other, make for a memorable surfing experience and a peak destination for adventure travel in Asia.
Location: Padang Padang Beach, Pecatu, South Kuta, Badung Regency, Bali, Indonesia.
Timings: Daily: 7:00 AM – 10:00 PM
Price: Free
You May Also Like: 55 Best Places to Visit in Bali
Suggested Read: Amazing Things to Do in Bali
10. Do-Dodonpa, Fuji-Q Highland, Japan
Roller-coaster enthusiasts world over know the engineering marvel Do-Dodonpa, as an extreme roller coasteering experience and one without which a trip to Japan is incomprehensible. This beast made with steel tracks covers a distance of 1,244 metres in 55 seconds and holds the record for the fastest accelerating roller coaster in the world.
The roller coaster ride accelerates from 0 to 180 kilometres per hour in just 1.56 seconds, reaching a maximum height of 161 feet! With a backdrop of the majestic Mount Fuji, the roller coaster offers beautiful panoramic views of the landscape, given that you can open your eyes. This roller coaster is not for the faint-hearted. A list of adventure activities in Asia is surely incomplete without Do-Dodonpa.
Location: Japan, 403-0017 Yamanashi, Fujiyoshida, Shin Nishihara, 5 Chome−6−1
Timings: 9:00 AM – 5:00 PM
Price: Approximately USD 50 for a day pass.
Duration of the activity: 55 seconds.
11. Jungle Safari Trek In Temburong, Brunei
Temburong can be best described as a hidden paradise and an excellent destination for adventure travel in Asia. These ancient jungles are a part of a small Sultanate on the Southeast Asian island of Borneo. Wildlife and nature enthusiasts from across the globe come to traverse the wild landscape of Temburong and experience the thrills of the untamed wilderness.
A river taxi past crocodile-riddled waters and virgin forests ringing with the calls of the wild bring you to the heart of Ulu Temburong National Park. Here, you can walk on towering structures that climb up to 50 feet to enjoy canopy walks unlike any other or go for night walks to meet the nocturnal denizens of the forest and even hop on local rafts to enjoy water safaris on Temburong Bay!
Location: Brunei, Ulu Temburong National Park
Timings: All day long.
Price: USD$197
Starting Point: Temburong
Ending Point: Temburong
Must Read: Popular Places to visit in Brunei
Also Check: Top Things to do in Brunei

12. Kayaking the Nam Song River, Laos
Adventure travel in Asia, particularly in Laos, is deemed incomplete without a ride down a river on a kayak. Nam Song River hosts kayakers from countries around the world to kayak down its turbulent waters for an adrenaline-packed experience. The rapids down the river offer great opportunities to test your kayaking skills as you navigate the waters.
You can also relax a little and take pictures on the quieter stretches of the river, making it an adventure activity that can be enjoyed by most. The surrounding scenery is breathtakingly beautiful and you also get to pass through a cave and exit to panoramic views of the Nam Kouang valley. Usually, the starting point for the kayaking tour in winters is different than in summers and is much shorter as well.
Location: Vang Vieng, Nam Song River, Laos
Timings: 8:00 AM – 9:00 PM
Price: Approximately $50.
Duration: Half-day.
Starting Point: Vang Vieng
Ending Point: Vang Vieng