Reasons Why Hong Kong Should Be On Every Adventure Freak Checklist!
Quick Jumplinks to Navigate
Hong Kong is a city bustling with adventure and you will find a different experience in every nook and corner. The city has a rich past which combines influences from the Cantonese and the British culture and today, it is one of the few Asian destinations where the past and the present live in complete harmony.
When in Hong Kong, you can escape into some of the most stunning natural landscapes or experience the culture overload that the city has to offer, there is an adventure for everyone! You can try everything from thrilling rides at Disneyland and Ocean Park to a day spent hiking the geopark. You can also try your hand at high-endurance adventure sports like rock climbing, cliff diving, cliff ziplining and abseiling.
If you enjoy spending time in the water, then Hong Kong offers some scenic places to try kayaking, canyoning and waterfall hiking. For foodies, there are adventure-packed food tours that take you through different parts of the city and introduce you to all the culinary delights that Hong Kong has to offer!
Following are the reasons why Hong Kong should be on every adventure freak checklist:
1. Rock Climbing in Black Crag for an Exciting Adventure
If you love to challenge yourself and test your strength and endurance, then rock climbing in Black Crag is for you. The Black Crag is a south-facing cliff in Hong Kong which opens up to panoramic views of the water. As you climb higher, the views become clearer and you can see the Ocean Park and the Deep Water Bay Beach.
The rock is made of granite and offers moderate to difficult climbs, providing rock climbing opportunities to all kinds of climbers. Since the rock formations are relatively new, the rock can be loose at places and you can face boulders the size of football and basketball. The access to the site is easy and the climbing gear is easily available, making it a popular destination among climbers.
Suggested Read: 50 Amazing Places to Visit in Hong Kong
2. Waterfall Hikes at Sheung Luk Stream for Some Breathtaking Views
Sheung Luk stream is a picturesque stream which can be easily reached from the coastal village of Sai Wan. The stream is characterised by small basins of water and clean waterfalls with crisp, cold water flowing through them. You can reach the stream after an easy one-hour hike which will take you through breathtaking views of the HighLand Reservoir and the East Country Park.
You will encounter many stunning natural formations on the way to the Sheung Luk stream hike the river and pass through dense, canopied forests. You will also come across three small pools which lead to a bigger, much deeper river pool with stunningly blue water. The north side of the pool rises to form a cliff reaching around eight metres from which you can plunge into the water.
You May Also Like: Hiking in Hong Kong
3. Experience Geopark Hiking to Get Closer to Nature
The thrills offered by a hike along the High Island Reservoir in the Hong Kong Geopark are unlike any other. The route stretches from the reservoir and weaves through the Sai Kung East Country Park. During your hike, you are offered some magnificent views of lush greenery and deep blue water. For people who are interested in geology or even photography, this hike offers stunning views of a hexagonal volcanic column wall.
Not only does this natural feature look good but is also one of the largest of its kind in the world. Apart from nature, the hike offers glimpses of ancient culture as you pass through small villages museums like the Sheng Yiu Hakka Village Museum. Here, you can witness how a thriving fishing community still exists and functions in Hong Kong.
Must Read: 55 Best Things to Do in Hong Kong
4. Cliff Ziplining & Abseiling at Sai Wan Ho to Get an Adrenaline Rush
Outside the bustling city of Hong Kong, in Sai Wan Ho you will find many pristine spots where nature still dominates. The landscape is marked by turquoise ocean views, forest-covered islands and jutting, rocky cliffs where you can experience exhilarating activities like cliff ziplining and abseiling. You can walk through the rocky terrain to get to one of the many remote sites which offer cliff ziplining and abseiling opportunities in Sai Wan Ho.
There are many different companies which organize these activities and there are several different options with varying levels of difficulty to choose from. You will find packages that include children and some also with elderlies; making it an adventure for the whole family. If you truly want to experience the natural beauty of Hong Kong up close, then ziplining and abseiling are some of the most fun ways of doing it.
Planning a Trip to Hong Kong Check Out Best Hong Kong Tour Packages
5. Canyoning in the Gushing Waterfalls at Ping Nam Stream 
Ping Nam Stream is a popular canyoning destination in Hong Kong and is known for its natural beauty. You will find the whole area dotted by many waterfalls and pools of water which offer many opportunities for adventure activities like waterfall abseiling and diving. You can visit the Ping Nam Stream in practically any weather but the trip becomes particularly pleasant in the summers.
The beautiful rock formations and water bodies make it ideal for canyoning in Ping Nam Stream. While here, you can try your hand at stream trekking, swimming, sliding down rocks, abseiling and free jumping. Professional instructors can be easily arranged for a trip to the stream who can show the best places and ways to enjoy canyoning at Ping Nam.
Recommended Read: Water Sports in Hong Kong
6. Biking and Kayaking in Sai Kung for a Tranquil Experience
Sai Kung is a peninsula in Hong Kong which is home to quaint fishing villages and breathtaking natural beauty. Biking and kayaking in Sai Kung are one of the best all-around the Asia. Biking trails criss-cross through the landscape which includes two country parks and as you bike, you can enjoy sweeping views of oceans, forest and volcanic rock columns.
You can also make a stopover at the Sai Kung Town which is known for its floating seafood markets and open-air, waterfront eateries. Apart from biking, you can also enjoy kayaking at one of the many beaches. You can also choose to kayak from the Sai Kung Town to Pak Sha Chau. The scenic route is lined with dense mangrove forests which offer many opportunities for bird watching.
Also Read: Hong Kong Nightlife
7. Night Paddling at Cheung Chau Island under the Twinkling Skyline
Out of all the nature-based experiences that Hong Kong has to offer, night paddling at Cheung Chau is probably the most unique. You can choose to go on a night kayaking trip at the Cheung Chau island, 10 kilometres southwest of the Hong Kong island. Not only can you enjoy paddling under the stars but also soak in the views of the twinkling Hong Kong skyline.
You can choose to kayak in a group with experienced guides that will also tell you about the nocturnal animal life that lives in the mangroves of the area. After kayaking in the luminescent waters, you can also visit one of Cheung Chau's night markets which are known for their delicious street food variety. You can try the iconic buns, seafood and cold drinks.
Suggested Read: Camping in Hong Kong
8. Get in Touch with Your Inner Child by Visiting Ocean Park
There is no better way to quell the heat than at Ocean Park, when in Hong Kong. This giant amusement park offers many activities for both young and old visitors, including roller coasters, cable cars, dedicated zones, aquariums and more! You can spend time with your kids as they walk through specialized trails and meet exotic animals.
Or you can get a glance into the lives of underwater creatures at Aqua City. Thrill-seekers will get many opportunities to test their endurance as they ride some challenging rides, including The Abyss, Hair Raiser, Gator Marsh, Raging River and many more. Ocean Park also hosts many shows including Ocean Theatre, Bird Theatre and Whiskers Theatre where you can watch the creatures of the wild perform.
Also Check Out: Scuba Diving in Hong Kong
9. Get Enchanted by the Rides in Hong Kong Disneyland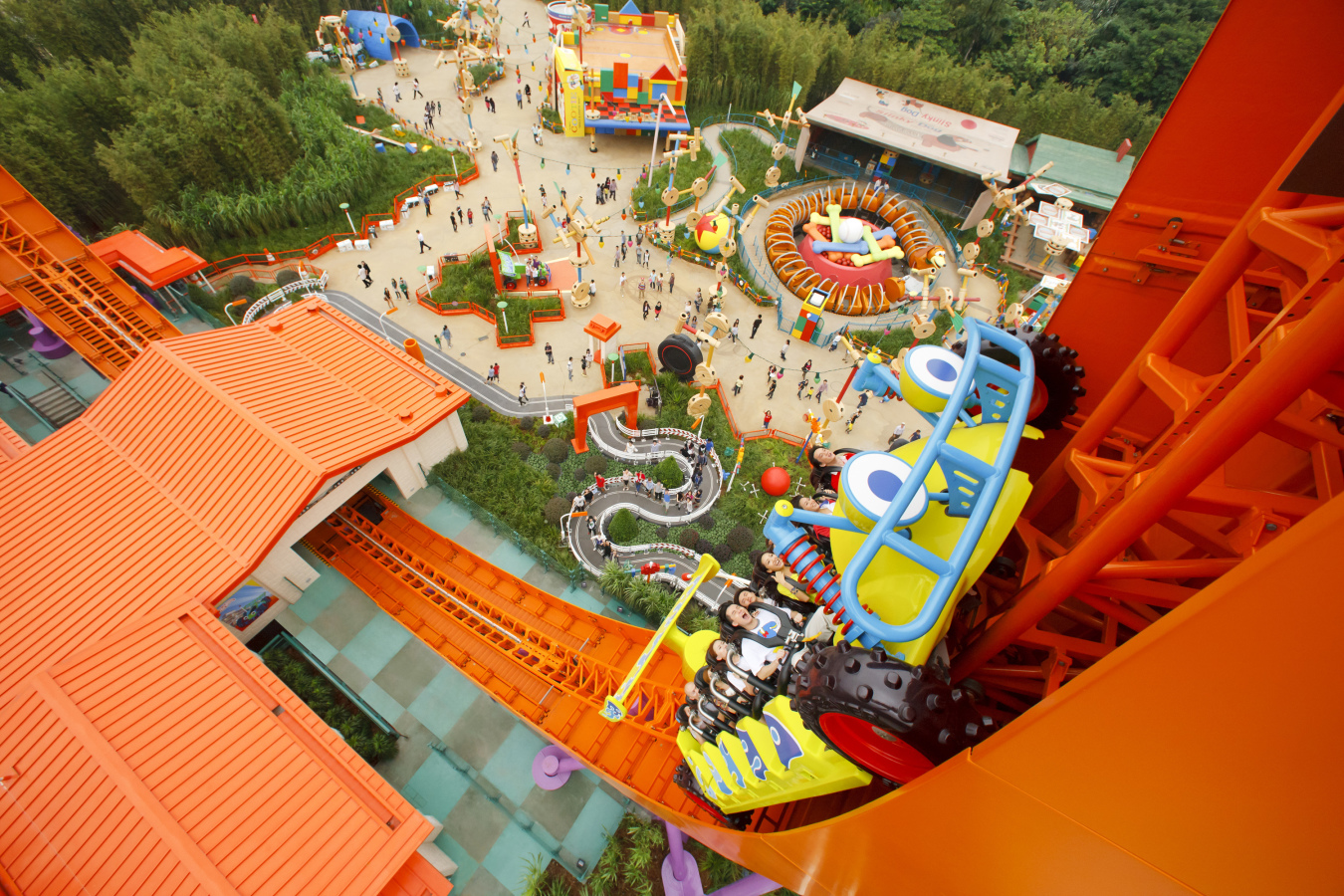 When in Hong Kong, you can experience the magic of Disneyland when you spend a day at the Hong Kong Disneyland. The place is massive and divided into many smaller sections that will tickle your imagination and give you an adrenaline rush at the same time. You can visit the enchanting Sleeping Beauty Castle or try the Toy Soldier Parachute Drop if you want to try something more challenging.
From the nerve-racking RC Racer to the Hyperspace Mountain, the place is filled with rides that will make the adventure freak in you very happy. Apart from these, you can spend time at the Mystic Manor, Garden of Wonders or ride the Big Grizzly Mountain Runaway Mine Cars, the opportunities for fun are endless!
10. Get Rewarded by Beautiful Sunrise after a Tough Hike to Lantau Peak
Counted as one of the toughest climbing summits of Hong Kong, Lantau Peak is the second-highest point of the place. Giving a breath-taking view from the summit is a reward that can be earned if you have valour and are ready to shed some sweat. The Lantau Peak climb is not a cakewalk at all, it even challenges the serious climbers to the core.
Experience thrill like never before as you ascend to the peak for this seven-hour climb. If you wish to get into a rigorous physical breakout amidst the natural vegetation, this is your must-go-to place. Do not worry if you're not a trained trekker, the operators will help you channel your enthusiasm to make this an unforgettable excursion.
Must Read: Things to Do in Hong Kong at Night