12 Experiences That Proves Hong Kong Is An Ultimate Getaway for Adventure Couples
Quick Jumplinks to Navigate
Adventure is the perfect recipe to escape the monotony of life and enter another dimension where you and your partner get ample chances to explore new possibilities, and then embrace and overcome challenges together. Renowned for offering a wide array of unique experiences, Hong Kong presents some truly engaging activities for couples who are fond of adventure.
From hiking and rock climbing to cruising and gondola ride, you can find a variety of indulgences that complement your common interests perfectly. Moreover, the enchanting natural, as well as the architectural beauty of Hong Kong, is there in all parts of the territory to enhance your experience further.
Look at the sweeping views in awe as your cable car glides across Lantau Island, sail across Victoria Harbour to witness its dazzling skyline, and kayak around Cheung Chau Island in the dark of the night. Furthermore, if nothing fascinates you two more than conquering mountains, Hong Kong also has scenic hiking trails such as Dragon's Back Trail and Lantau Peak Trail, which are perfect for an adventure-filled rendezvous. These thrilling experiences for couples are not only capable of enriching your special moments but will also help you make everlasting memories together.
Following are the experiences that prove Hong Kong is an ultimate getaway for adventure couples:
1. Canyoning At Ping Nam Stream
If the plan is to enhance your relaxing vacation with your loved one by adding the fun of adventure, indulge in the action-packed experience of canyoning at Ping Nam Stream.
A gushing stream enclosed by lofty canyons, Ping Nam Stream makes for a perfect spot where you can try a bit of hiking, rock climbing, abseiling, and free jumping during a canyoning experience. You will be glad to have them by your side as they motivate you to pass the hurdles and confront your fear of heights to successfully finish the challenge.
Cost: INR 12,190
Highlights:
– Visiting stunning waterfalls
– Canyoning coupled with hiking, swimming, abseiling
Also Read: Places to Visit in Hong Kong
2. Night Kayaking At Cheung Chau Island
 A kayaking experience in the quiet atmosphere of the coastline of Cheung Chau, under the dark sky studded with a million stars, is naturally the most romantic adventure you can look forward to indulging in Hong Kong. To fulfill your desire to experience the high only adventure can induce, this tour combines the pleasure of paddle boating and kayaking. Participate in this night-time adventure with your significant other, and make invaluable memories as you together kayak and paddle your way along the coastline of Cheung Chau Island.
Cost: INR 7,210
Highlights:
– Kayaking and paddle boating
– Chance to explore Cheung Chau Night Market
Must Read: Things to Do in Hong Kong
3. Cable Car Ride at Ngong Ping 360
If you are wondering if there is any way to enjoy both sightseeing and thrill, simultaneously in Hong Kong, it is time to try a cable car ride at Ngong Ping 360. An opportunity to not only delight in the most incredible overview of Lantau Island but also to add a sense of thrill to your date, this journey between Tung Chung and Ngong Ping is said to be a mind-blowing experience.
As your gondola soars across the cable, you get to take in breathtaking bird's eye views of the rolling hills of North Lantau Country Park and iconic landmarks such as the Big Buddha, Po Lin Monastery, etc.
Cost: INR 1,799
Highlights:
– Glass bottom cabin
– 360-degree views of Lantau Island
– The fastest way to travel between Tung Chung and Ngong Ping Village
Also Check Out:  Hong Kong Tour Packages
4. Get a Birds-Eye View of Hong Kong from a Helicopter
If you are looking forward to surprising them with an adventurous date in Hong Kong, nothing can beat the fun of a helicopter tour of the territory. This private tour with a duration of up to 45 minutes is the most enthralling way to enjoy the bird's eye view of the most prominent attractions here – both natural and man-made.
Watch them hold their breath as the helicopter glides over the skyscrapers, wooded mountains, sandy beaches of Hong Kong. Sharing this stimulating experience will give a boost to your emotions towards each other.
Cost: INR 15,145
Highlights:
– Overview of the Big Buddha, Po Lin Monastery, and other important landmarks
– Flying over the mountains and the beaches
Also Know: Beaches in Hong Kong
5. Hike to Dragon's Back Trail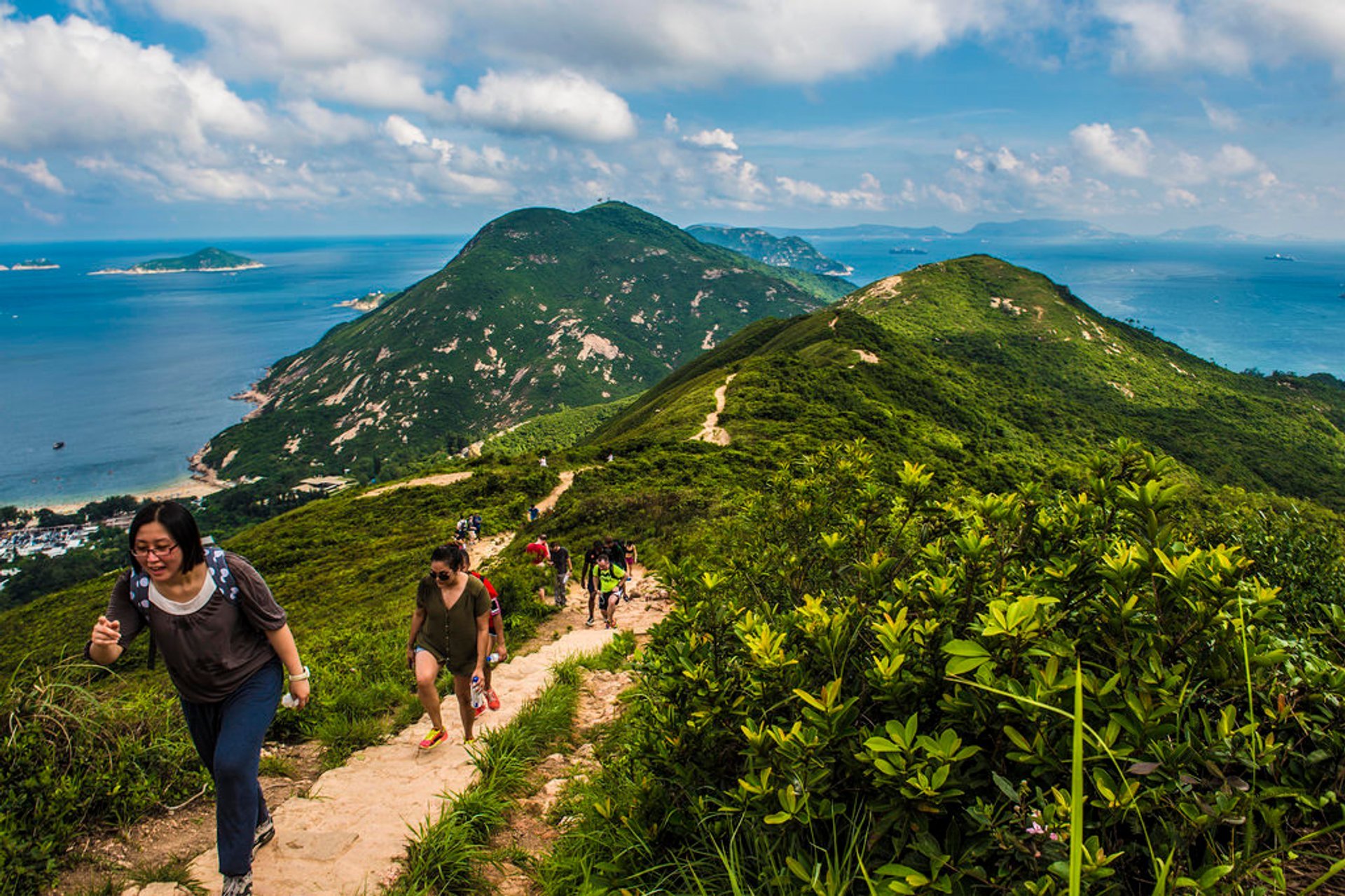 Add new vertices to your love life by hiking on Dragon's Back Trail which is a strong recommendation for all adventure-loving couples out there. This thrill-filled quest pleases participants with breathtaking panoramas of Shek O Beach, southern Hong Kong Island, and its magnificent shoreline.
The trail ends at Big Wave Bay which makes the overall experience all the more refreshing as you get to swim, surf, and sunbathe to get rid of the fatigue. Being on this wonderful hike together gives you plenty of time to strengthen your compatibility, enjoy the natural splendour of Hong Kong Island, and click selfies with stunning backdrops of lush green mountains and an endless stretch of the blue sea.
Cost: INR 3,100
Highlights:
– Overview of Hong Kong Island
– Beach fun at Big Wave Bay
You May Also Like to Read: Hiking in Hong Kong
6. Tandem Paragliding in Hong Kong

It is said that love gives you wings, and this riveting adventure in Hong Kong proves the notion right.  A tandem paragliding flight from Dragon's Back is an offbeat activity, but worth your money and time nonetheless.
Just tag along your partner and off you both go, gliding through the air, like two free birds. As you float over the forested hill, you get to relish the enchanting views of the entire Dragon's Back, Shek O Beach, and vast expanse of the sea. Furthermore, you can also avail of the video recording option so that the memory of this amazing paragliding session with them stays intact forever.
Cost: INR 14,600
Highlights:
– Unobstructed landscape views
– Landing on Shek O Beach
Suggested Read: Islands in Hong Kong
7. Lantau Peak Sunrise Climb

Rise above the banality of dinner dates, and spend an unforgettable night on Lantau Island, struggling together to make it to Lantau Peak. This adventure to climb the second-highest mountain peak in Hong Kong at an altitude of 934 meters is an enticing outdoor experience, ideal for couples whose idea of romance is adrenaline-pumping action.
Since the summit is best known for offering surreal sunrise scenes along with 360-degree panoramas of the valleys, settlements, and hills around, keep your camera and tripod ready to capture the togetherness in a new dawn.
Cost: INR 5,300
Highlights:
-Hike to the second highest peak in Hong Kong
– Mesmerizing sunrise views
Must Read: Places to Visit in Hong Kong and Macau
8. Tolo Harbour Cycling

A rewarding experience that combines the gratification of sightseeing with the exhilaration of adventure, Tolo Harbour Cycling tour is apt for couples in Hong Kong.
Relishing a slow journey on the winding cycling paths in the middle of raw nature will render you both mesmerized and give you plenty of chances for exchange of emotions. And to make everlasting memories and freeze them in pictures, the track allows cyclists to soak up and capture the refreshingly scenic views of Pat Sin Leng Mountains.
Cost: INR 4,270
Highlights:
– The natural setting of the track
– Panorama of Pat Sin Leng Mountains
You May Also Like: Things to Do in Hong Kong at Night
9. Cliff Ziplining & Abseiling
Bringing together the thrill of ziplining and abseiling, this adventurous indulgence is perfect for couples who are fond of adrenaline-pumping fun. The tour starts with a hike where you get to encounter historical relics, rock formations, and exquisite views of the ocean.
Post which, ziplining tours, laced with moments of exhilaration give you an ultimate dose of adrenaline rush. Participating in this nerve-wracking adventure with your lover is one of the best ways to disrupt the monotony created by sightseeing excursions in Hong Kong.
Cost: INR 5,990  
Highlights:
– Hike to the site
– Beautiful scenery
Also Know: Things to Do in Hong Kong with Kids
10. Enjoy the Rides and Shows in Disneyland
Join your partner in a nostalgia-filled day outing at Disneyland, a world-famous Disney theme park set on Lantau Island. Encompassing seven elaborate theme zones replete with structures and characters from the magical world of Disney and an extensive range of stimulating rides, an exploration of this park will instantly transport you both to your childhood days.
Click each others' pictures with your favourite Disney characters, visit the sites you saw in cartoon shows as kids, and participate in a wide range of enthralling activities at Adventureland.
Cost: INR 5,249
Highlights:
– Adventureland
– Jungle River Cruise
– Festival of The Lion King
– Flights of Fantasy Parade
Popular Read: Things to Do in Hong Kong Airport
11. Watch Pink Dolphins at Ocean Park

For a not-so-thrilling and rather charming offbeat outdoor experience with them in Hong Kong, you can head straight to Ocean Park to indulge in lighthearted activities with pink dolphins.
The park, devoted to marine life, has a range of experiences where you can feed the dolphins, watch them as they flaunt their talents, and spend some valuable moments interacting with them. What's more, you can also click pictures while hugging and kissing these adorable creatures.
Cost: INR 4,550
Highlights:
– Meet The Dolphin Programme
– Dolphin Encounter
Also Read: 15 Things to Do in Lantau Island
12. Ride on Aqualuna Evening Sail
This adventure where you and your partner get to indulge in an evening sail across the gorgeous Victoria Harbour under the colourful skies of dusk will give you some treasurable moments of your time in Hong Kong.
Soon after you board one of the now rare exquisite Chinese junk boats, you will find you two fixated to the gorgeous, long shoreline decked with illuminated countless skyscrapers. The sail will also give you ample opportunities to immortalize the charming adventure by clicking lots of pictures together.
Cost: INR 1,674
Highlights:
– Sail in the Chinese junk boat
– Vista of the illuminated skyline
– Complimentary drink on board
Recommended Read: New Year in Hong Kong