Top 10 Fun & Free Things to Do in Minneapolis
Quick Jumplinks to Navigate
If you are travelling on a budget, finding free things to do in Minneapolis is not difficult. The vibrant city is strewn with amazing attractions, activities, and landmarks where everybody is invited and welcome to enjoy freely.
For an unforgettable pocket-friendly vacation, soak in the art & heritage of the city at the Minneapolis Institute of Art & Walker Art Centre. Visit the Como Zoo & Conservatory for a family day out amidst exotic animals. Walk on the majestic Stone Arch Bridge and enjoy artisanal foods and shopping at Midtown Global Market. See the famous Spoonbridge & Cherry sculpture at the Minneapolis Sculpture Garden and hike amidst the lush Grand Round Scenic Byway.
Here is the list of 10 free things to do in Minneapolis:
1. Visit the Minneapolis Institute of Art
No trip to Minneapolis is complete without visiting this amazing assortment of over 89,000 artworks, the largest in the region. These artefacts span over 5,000 years and consist of Decorative Arts, Paintings, Photography, New Media, Arts of Asia, Africa & the Americas, etc.
See the larger than life outdoor exhibits including a pair of Chinese lions, The Fighter of the Spirit Statue, Labyrinth, and the Eros Bendato Screpolato. Enjoy chef-crafted coffees, desserts, and craft beers at the in-house Agra Culture Coffee Shop and Café to round off the day.
Where: 2400 Third Avenue South, Minneapolis, Minnesota.
2. Stopover at Walker Art Centre
Anybody interested in contemporary arts should not miss visiting The Walker Art Centre to see some of the most amazing artworks in history. It houses over 13,000 pieces of books, costumes, sculptures, prints, pictures, etc.
Don't miss to see live visual art performances here including traditional dances, musicals, and poetry. Visitors can see rare films at the 'Moving Images' here. Try artisan cocktails, craft beer, and coffees at Esker Grove, the beautifully set hillside café.
Where: 725 Vineland Pl, Minneapolis, Minnesota.
3. Visit the City's Famous Chain of Lakes
Five of the largest lakes here form the 'Chain of Lakes', one of the top places to visit in Minneapolis. People flock from all over to spend time here to ski, play hockey & softball, jog, and boat. Other attractions include a cross-country ski trail, fishing pier, volleyball court, and decorative fountains.
See the beautiful Lyndale Park Gardens, Roberts Bird Sanctuary, and Lake of the Isles Dog Park. See the Minnehaha Falls and James J. Hill's Stone Arch bridge and try delicious seafood at Sea Salt Eatery.
Where: Shores of Cedar Lake, Lake of the Isles, Bde Maka Ska, Lake Harriet, and Brownie Lake.
4. Admire the Minneapolis Sculpture Garden
One of the most legendary public spaces in Minneapolis, the garden houses over 40 larger than life sculptures by artists from over 10 countries. One of the best free things to do in Minneapolis is to spend time amidst the wonderful mix of colours and textures here.
See the world-famous sculptures like Hahn/Cock, LOVE and Spoonbridge and Cherry. Visitors can also spend time at the nearby gumball machines and maze games. This erstwhile wetland created through storm water reuse system sits on an 80,000-gallon underground water cistern, which conserves 4.7 million gallons of water each year.
Where: Near the Walker Art Centre at 725 Vineland Pl, Minneapolis, Minnesota.
5. Stroll through Minnehaha Park
Taking a walk in Minnehaha Park is one of the most popular free things to do in Minneapolis. One of the oldest parks in the region, this lush green space is located right in the middle of the city and is spread over a whopping 193-acre area.
The top visited attraction here is the 53-foot long waterfall. It houses vast thickets of trees like silver maple & cottonwood, etc. Don't miss to see sculptures of Hiawatha and Minnehaha, The Chief Little Crow Mask, and The Gunnar Wennerberg.
Where: 4801 S Minnehaha Drive, Minneapolis.
6. Shop at Midtown Global Market
One of the best places to feel the pulse of the city and embrace it in all its splendour, this market is much more than just a shopping place. It celebrates international arts, crafts, and cuisines and at the same time promotes the culture & heritage of Minneapolis.
You can enjoy delicious Indian, Chinese, and Italian cuisines along with the most decadent desserts and craft beers. Shop for craft ware, handicrafts, accessories, books, and home goods. Don't miss to catch the visual art performances, yoga & Zumba sessions, African drum sessions, etc.
Where: 920, E Lake Street, Minneapolis.
7. The Frederick R. Weisman Art Museum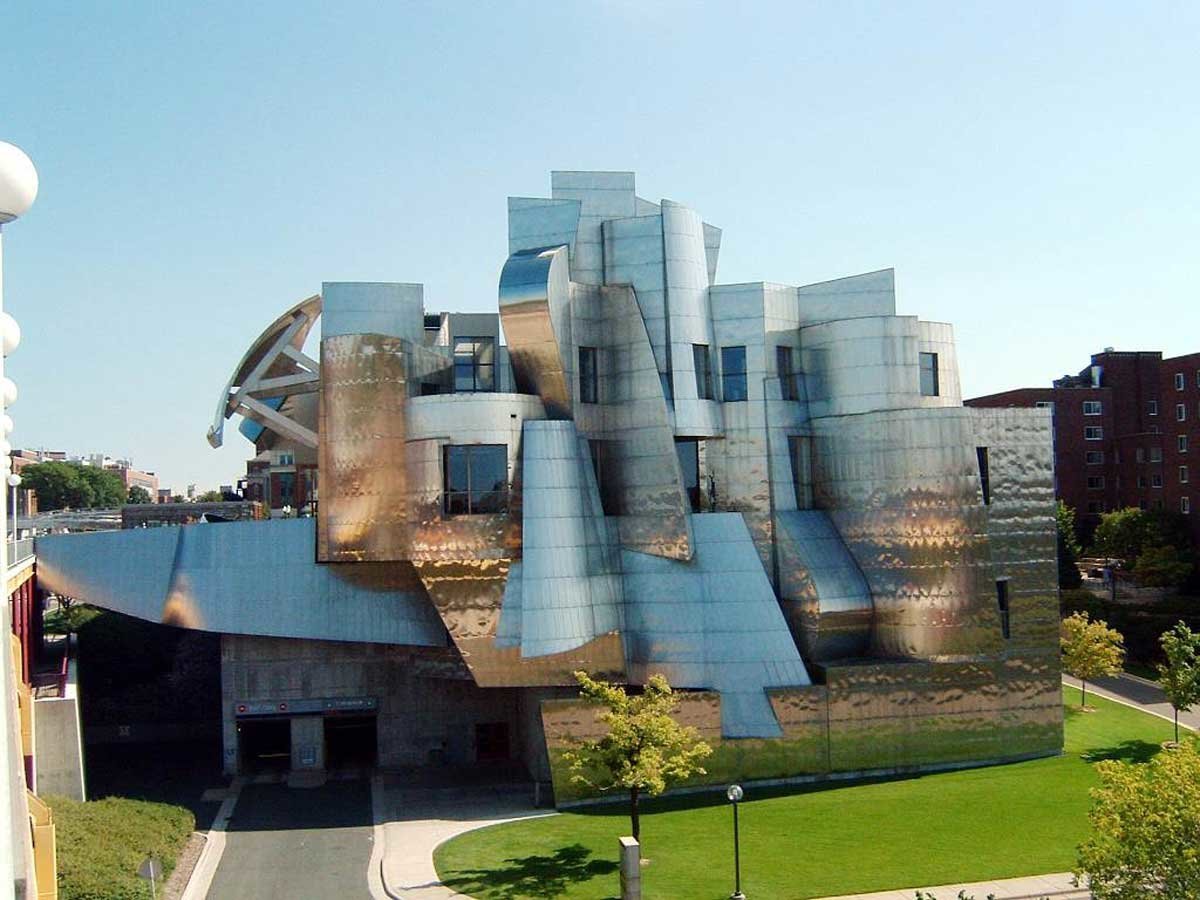 Often referred to as crumpling can due to its striking building architecture made of stainless steel and bricks, this is the perfect place to spend your weekends. It houses over 20,000 contemporary and ancient artworks.
These include furniture belonging to the 13th century Choson dynasty in Korea and Native American pottery dating back to 850 AD. The museum has been located on the campus of the University of Minnesota since 1934.
Where: 333, E River Road, Minneapolis.
8. Walk through Stone Arch Bridge
One of the most breathtaking historical landmarks, the Stone Arch Bridge spans the Mississippi River. Constructed in 1883, this bridge is the best vantage point to see the St. Anthony Falls. To traverse between the majestic arches, you can take a kayak tour or opt for a minute bike ride pass to slowly soak in the views.
There are plenty of hangouts around for you to enjoy delicious coffees, drinks, ice creams, and burgers. Plenty of free weekend art & music festival run regularly here.
Where: 100 Portland Avenue, Minneapolis.
9. Gaze at the Impressive View of Grand Rounds Scenic Byway
Grand Rounds Scenic Byway lets visitors soak in all hues and colours of Minneapolis in one place. It is a 50-mile long assortment of parks, trails, and bikeways, canals, lagoons, and golf courses circling the entire city. This grand luxuriant landscape seamlessly blends with the city and is home to many attractions.
Visit the Theodore Wirth Park wildflower garden, Lake Harriet rose garden, Orchestra Hall, Weisman Art Museum, and Guthrie Theatre. For biking enthusiasts, the garden offers a 51-mile long urban bike loop, one of the most exciting free things to do in Minneapolis.
Where: The Byway loops through the entire city.
10. Take the Kids to Como Zoo and Conservatory
One of the most interesting free things to do in Minneapolis is to explore the Como Zoo and Conservatory. See exotic animals like the anaconda, Arctic Fox, Dall's Sheep, Emperor Tamarin, Lions, Sloths, etc.
Don't miss the Water gardens, Sunken garden, Orchid house here. The zoo is dotted with murals like Schiller, Toby, Granite Frog, etc. For children, there is Cafesjian's Carousel, Pollinators Exhibit, and Ribbit Zibit.
Where: 1225, Estabrook Dr, St. Paul, Minneapolis