About Murudeshwar Temple
Flanking the shores of Karnataka lies Murudeshwar Temple dedicated to the Hindu God Shiva. This temple is nestled on a small hill called Kanduka and is surrounded by the Arabian sea from all the three sides. Murudeshwar temple showcases a contemporary work of architecture, and the main entrance of the temple which is also known as "Gopuram" stands at around 123 feets.
The Gopuram is guarded by two elephant statues. Another glorious structure in this temple is the huge idol of Shiva. This idol is the second largest statue of Shiva across the world and often fascinates the devotees towards it. A 237.5 feet tall Gopuram is located at the entrance and is also known as the Raja Gopuram. 
The whole temple is lined with the most detailed and intricate carvings depicting Lord Shiva giving the teachings of the Geeta to Arjuna and Ravana, giving Atma Lingan to Lord Ganesha. A small temple devoted especially to Sri Rameshwara is also located at the backyard of the temple. 
You can also have a glimpse of the shrine of Shaneeshwara placed close to the idol of Shiva. Murudeshwar Temple is one of the most visited tourist destinations in India. This place especially gets jam packed during Maha Shivaratri when thousands of people from across the world visit this place to enjoy the celebration to the core.
How to Reach Murudeshwar Temple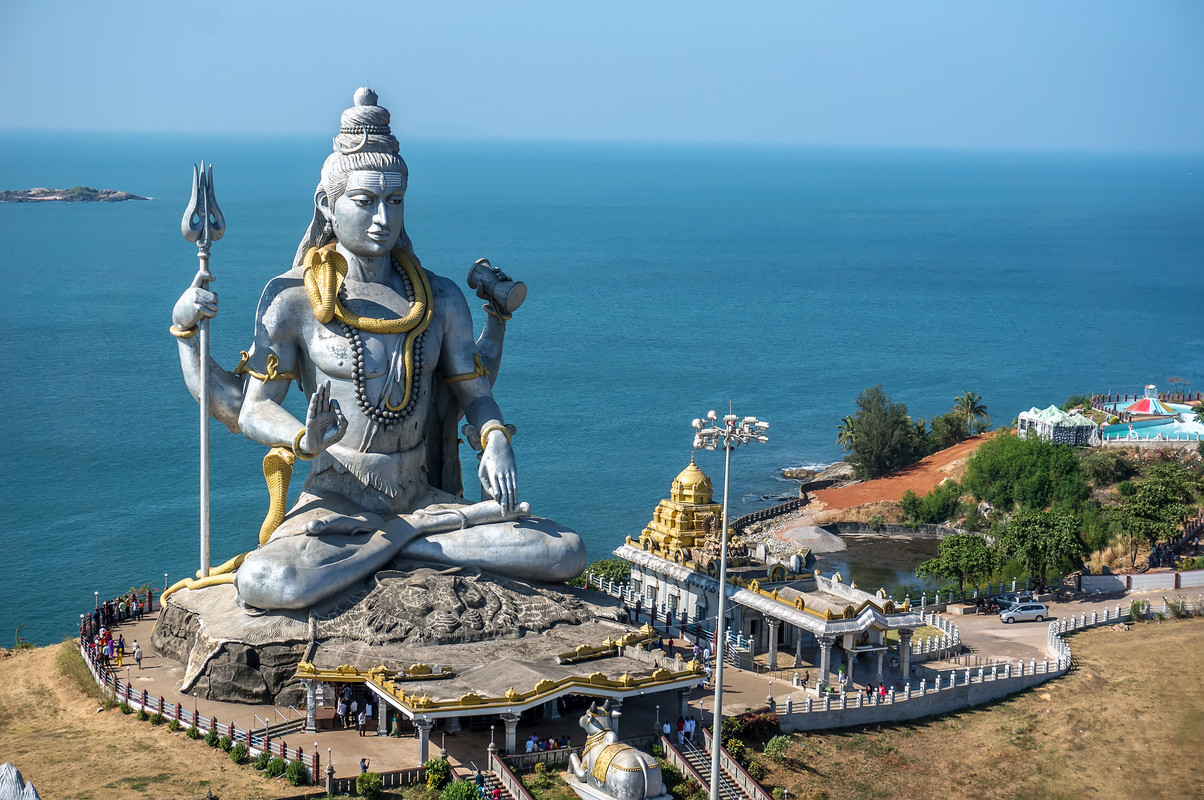 Murudeshwar temple is accessible by various modes of travel, primarily three:

By Road: The best way to reach Murudeshwar temple is by the roadway. There are four ways to get from Gokarna to Murudeshwar. Traveling by car, it would take around an hour and a half to reach Murudeshwar temple from Gokarna.

By Taxi: If you are traveling by taxi, it will take around the same time as a car. It is a costly mode of travel but also the most convenient. You can sit back and relax while you drive to your destination. It will cost around 2000-3000 rupees.

By Railway: Murudeshwar can also be reached by railway from Gokarna. This method takes one hour forty-five minutes and costs around 440-450 rupees. Three trains are available between these destinations, but Bangalore Express is the most convenient. Matsyagandha express is also often opted by passengers to cover this distance.
Best Time to Visit Murudeshwar Temple


Murudeshwar temple can be visited throughout the year. Its pristine location makes it all the more attractive spot. The best time to visit Murudeshwar temple is from October to May.

During summers, the scorching heat of the sun may make it inconvenient to explore the areas around Murudeshwar Temple.

On the contrary, the winter months ensure a cooler climate with pleasant afternoons and mildly cold evenings. Furthermore, the monsoon showers have cleansed the area around thus making the landscape more vivid.

As Murudeshwar temple is at the sea coast area has high moisture in the air. This brings about an abundance of rainfall which makes sightseeing difficult.

Another great time to visit Murudeshwar is during Mahashivratri. As Mahashivratri is a festival dedicated to Lord Shiva, it is celebrated with great enthusiasm in Murudeshwar. Mahashivratri generally occurs during February or March. As it is a huge festival, many devotees visit this temple during the time.
What Not to Miss at Murudeshwar Temple

There are several places one can visit after exploring the spiritual aura of Murudeshwar:

1. Netrani Island: It is one of the best places in India for scuba diving. The coral reefs located underwater make it a hotspot for novice scuba divers who gather here in a huge number to explore the underwaters. This is a must-visit location around Murudeshwar Temple to have a captivating view of the sunrise and sunset also.

2. Murudeshwar beach: This is a long stretch of beach near the Murudeshwar temple where you can enjoy the shore and tranquility of the deep blue sea. It is sandwiched between the sea and a river and is flanked by tourists all around the year to try the exciting water sports activities like scuba diving and kayaking.

3. Murudeshwar fort: It is a popular fort that finds its origin during the times of Vijayanagara kings. It is said to be renovated later on by Tipu Sultan. It depicts the glorious past of our country through its beautiful architecture and sculptures.

4. Netrani Island: This magnificent coral island is located close to the Arabian Sea and is just 19 km away from Murudeshwar temple. The clear blue water of this heart-shaped island is ideal for scuba diving. It is also touted as one of the best spots for sightseeing as it has a huge variety of butterflyfish, triggerfish, and eels.

5. Statue Park: This is the ideal place to spend some quality time with your family and friends as the lush green lawns evoke a sense of peace and tranquility. The park has a man-made waterfall and many beautiful stone sculptures that will definitely captivate your eyes.


Things to do Near Murudeshwar Temple

Be it nature walks or cultural exploration, the area around Murudeshwar Temple is interspersed with calming and soothing things to do:

1. Visit the statue park: It is a park where the second-largest idol of Lord Shiva is placed. It is a magnanimous statue with the ocean as its backdrop.

2. Visit the Mirjan fort:Admire the Newan-style architecture of Mirjan Fort. It is one of the most beautiful sites in the area which will surely captivate your mind.

3. Enjoy the bird's eye view from the Rajagopuram: Rajagopuram of Murudeshwar temple is the second largest in the world. You can have a bird-eye view of the areas surrounding this temple from here.

4. Pray at the Idagunji temple:  It is a must-visit temple dedicated to Lord Ganesha. This temple has great mythological significance and is visited by over a million devotees per year.

5. Visit Netrani Island:  It is a coral island tucked in the Arabian sea and is touted to be one of the most popular scuba diving points in India.

6. Go for a dive at Eco Beach: Eco Beach is one of the best beaches on the Konkan coast. It is also known as the Kasarkod beach. It is outlined by a forest of Casuarinas on one side and the Arabian Sea on the other side.
Other Essential Information About Murudeshwar Temple
Timing: Opens at 6:00 am closes at 8:30 pm
Lunch timings: 1 pm to 4 pm
The main temple is closed during lunch break. Rudraabhisheka happens from 6:00 am to 12:00 pm and 3:00 pm to 7:00 pm.

Entry Fee: The main temple has no specific fee for visiting, like most temples in India.
Rudra Abhishekam ticket cost: RS.55 for 2 people. Devotees will have to carry pooja material for the Abhisheka.
Distance from Gokarna City Centre:

Roadway: The distance from Gokarna City Centre to Murudeshwar Temple is 77.7 km.
It can be covered in one and a half hours on a regular traffic day by roadway.

Railway: The distance between Gokarna City Centre to Murudeshwar temple is 83 km.
Three direct trains are available from Gokaran to Murudeshwar. Bangalore Express is the most convenient.


History of Murudeshwar Temple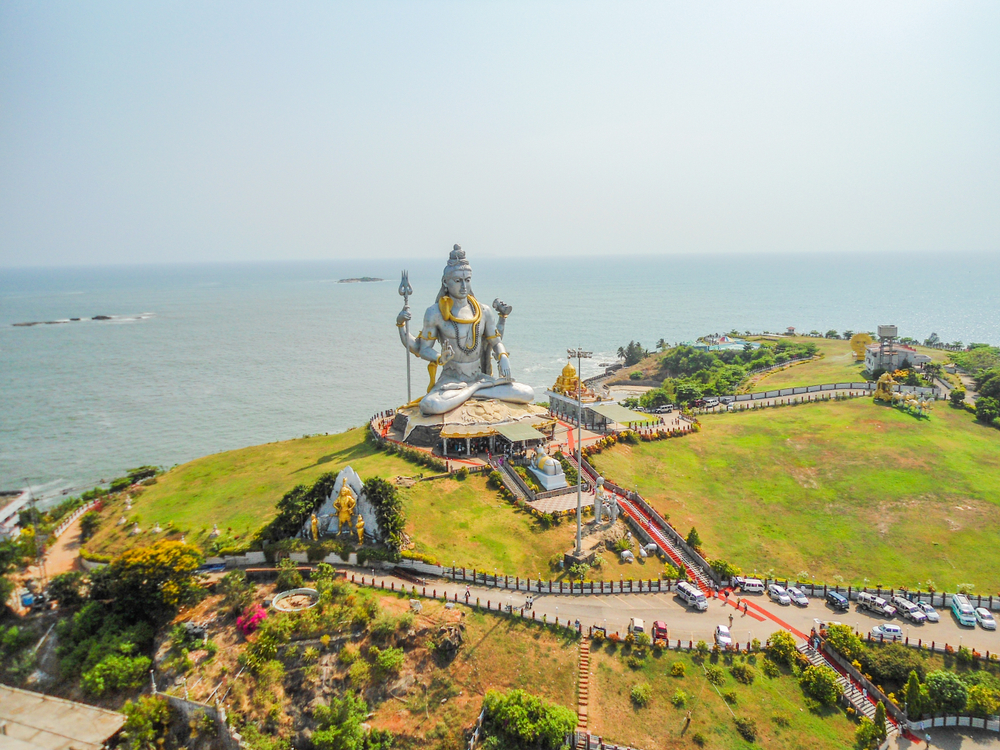 Murudeshwara temple is the greatest marvel for the devotees of Lord Shiva that originated during the Vijayanagara kings. The name Murudeshwar originated in the Ramayana era. The Hindu gods attained immortality from Lord Shiva as a result of a penance dedicated to Atma Lingam.

Ravana also tried attaining the same by worshipping Lord Shiva. When Lord Shiva appeared before Ravana and granted him Atma Lingam, he knew Ravana would wreak havoc into the world with such power. Thus, lord Shiva placed a condition on his boon. This condition was that if the Atma Lingam ever touched the earth, it would return to Lord Shiva.

Narada took advantage of this loophole in the boon. He knew Ravana would use this power for destruction. Narada approached Lord Ganesha for help. On his way back to Lanka, Narada tricked Ravana into thinking it was time for his evening prayers.

Ravana handed the Atma Lingam to a Brahmin boy, who was actually lord Ganesh in disguise. After the prayers, on returning, Ravana found the Atma Lingam on the ground. Realizing he had been tricked, Ravana got angry and sought to break the Atma Lingam.

The lingam was divided into three parts: the case covering that Ravana threw to Sajjeshwara, the lid which was thrown into Guneshwar and Dhareshwara, and the cloth covering the lingam was thrown to Mrideshwara, the present day Murudeshwar.

Murudeshwar temple is one of the most popular destinations in Karnataka. It captivates the numerous devotees and tourists with its rustic charm and beauty. It is one of the five temples known as Pancha Kshetras (five holy destinations) in Karnataka. 


Places to Eat Near Murudeshwar Temple
After exploration, if you need to boost yourself up with energy and some sumptuous meals, then the places around Murudeshwar temple will not leave you in dismay:
1. Naveen beach restaurant:
It is a lively beach restaurant and is known for serving scrumptious delicacies to the tourists. The staff is extremely cooperative, and the ambiance of this place is also very electrifying.
2. Sea lounge restaurant:
This restaurant has a great vibe and good staff. It is known for serving the best seafood that is definitely something that you must relish over here..
3. RNS café:
It is a café with a great location, excellent service, and good food. The beautiful view that this café offer makes it a spell-binding spot.
4. Romansiah restaurant:
If you're looking for a restaurant that has the best vibes then you should definitely stop by this place. This restaurant is known for its chilled vibes and varied menu that will satiate your hunger with utmost satisfaction.
5. Nayak fishland:
This is a paradise for people who love relishing on to the authentic south Indian non-veg dishes. The menu is full of variation, and you can also customize food as per your choice over here.
6. Hotel Kwality:
It is extremely popular for serving the best Bhatkal biryani. If you are a true biryani fan then this place should be a must-visit for you.
Places to Stay Near Murudeshwar Temple

There are various top-notch places around Murudeshwar temple where you can have a comfortable stay.
1. Dhenu Atithya:
It is a good hotel with affordable clean AC/Non AC rooms. They have an adjoining Chinese restaurant. This is a lively place that offers top-notch facilities to the guests. 
2. RNS guesthouse:
This guest house exudes sheer opulence through its expansive rooms that offer the enthralling view of the Arabian Sea. It provides a tranquil stay, and the staff here never fails to impress you with their services.
3. Shree Vinayak residency:
This is one of the more preferred hotels to stay near Murudeshwar temple for people who aren't looking for luxury but comfort. It has airy and spacious rooms and polite staff that will make your vacation worth remembering forever.
4. Naveen beach resort:
Enjoy a comfortable stay in this beach resort that boasts of offering the top notch facilities to its guests. They have spacious rooms and a lush green balcony where you can have a memorable time with your family.
Travellers Tip before Visiting Murudeshwar Temple
1.
Remove footwear before entering the temple. There is a shoe stand situated outside the temple for convenience. If you wish, you can wear plastic or paper bags on your feet. 
2.
You can buy the offerings and Prasad from the various stalls that are located outside the temple. 
3.
Do not get frazzled by the shopkeepers and crowds. Keep a clear mindset about your need and buy things accordingly.
4.
Beware of pickpockets and thieves. Keep your belongings safe.
5.
If you want to offer Abhishek, there is a separate queue, and you need to pay a small fee to join that queue.
6.
Never eat something that an acquaintance offers as it might be injurious to your health.
7.
Carry essential medicines and carry them with you everywhere.