About Blue Point Beach
Bali is a land blessed with some pristine beaches and attention-seeking tourist places. Blue Point Beach is one of them. Visit here around anytime in the year, you will find this place to be landlocked with foreign holidaymakers from Italy, Australia, Canada, and far-off destinations.Blue Point Beach represents the magnificence of the beautiful shoreline that stretches widely across the land cover of Bali.

The beach lies at a distance of around 45 km drive from the Kuta Shoreline. It is the only option to make your way to the Padang Padang Shoreline, Uluwatu Temple, and Dreamworld.Situated within the frontiers of Pecatu village, the Blue Point Beach is alternatively named as Suluban. What makes it ideal for tourists worldwide is that it has been globally acknowledged as a pristine surfboarding spot. The gushing illustration of the high rising waves here breaks the pin-drop silence that otherwise guards the beach.

Not many know about Suluban as a pristine surfers paradise as the beach waters rise as high as 3 to 12 feet. So, if you've got the surfing craze within you, this is a perfect holidaying destination for you.The Blue Point Beach is surrounded by high standing coral cliffs that isolates it from the rest of the world. There are stairs here at the beach. So, if you want to get closer to the beach, you first need to climb down those stairs and a towering natural rock gate. 

To sum it up, this beach is filled with cliffs and high rising waves!
How to Reach Blue Point Beach


Denpasar Airport is located at just a 21.9 km drive distance from Denpasar Airport. It can be easily accessed within 22 minutes of a taxi ride. On average, you will be charged around 1000 to 1300 INR for a one-way trip.

Besides, there are town car facilities available for you at approximately 1600 to 2300 INR per trip. Else, if you've got your private car, self-driving is always the best and the cheapest mode to commute.
Best Time to Visit Blue Point Beach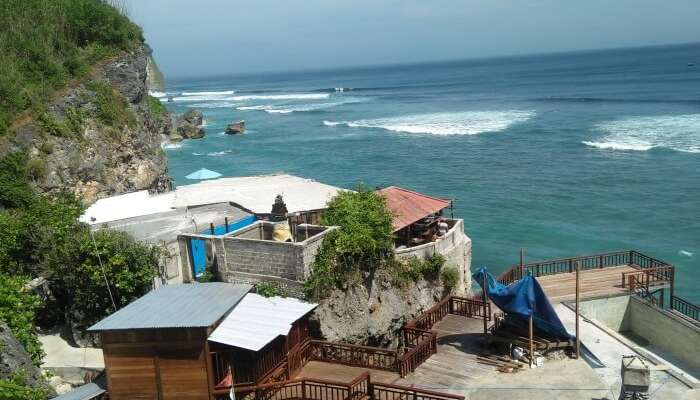 Tourists visiting the Blue Point Beach rate is as a year long destination. You just do not need any perfect time to plan your visit here. Pack your bags anytime as every single day is worthy to visit. However, if you want to witness extreme calmness, plan your visit either between February to March or September to December.  This is usually found to be an off-season here where you don't get to see much of touring activities. 

1. Blue Point Beach in Summers - The weather remains warm and dry during summers. So, this might restrict your free movement along the beach. Also, you might get tanned due to the scorching heat waves being radiated from the sun. if swimming in warm ocean currents is something you like, plan your visit to the Blue Point Beach in summers.

2. Blue Point Beach in Winters-  This is a cool dry weather. The waters of the Blue Point beach turns rough at this time and swimming may be difficult.Thus, this period is easily avoided by most of the swimming lovers. However, it is good for those who are looking for an affordable winter escape from hometown.

3. Blue Point Beach in Monsoons -  This may be the second good season to visit Blue Point Beach. You will get to see the different transitions of the water currents with the changing weather conditions of Bali. Just make sure to stay at a good distance from the beach during high tides.
What Not to Miss at Blue Point Beach
Thing to do in Blue Point Beach – 


Here's a list of some of the things to engage yourself in the luxuriate beauty of the Blue Point Beach –

1. Surfboarding – 
Although this beach is known for its steep cliffs and the high rising waves, you shouldn't miss a chance to enjoy its water sporting adventure. Don't shy off expressing your surfboarding skills here as there are many who enjoy the sport wholeheartedly. Still, if you are afraid of the height of the rising waves, you can always opt to observe the other surfers from a distance.

The moment you start feeling bored, get yourself to the swimming zone of the beach and relax for some time. Else, you can simply take a stroll and embrace the natural setting that surrounds the region.

2. Sea Viewing – 
The water of Blue Point Beach appears in two different colors. The shallow floors of the Blue Point Beach appear inexperienced while its most profound half seems as if it is painted in blue. Make sure that you take sufficient care of yourself and your kids while walking downstairs. The stairs are slim and are flanked with stony white cliffs.

3. Sun Viewing – 
Not many knows Blue Point Beach has always been the first love of the photographers visiting Bali. The beach offers spectacular views of the sunrise and sunsets. Imagine the sun is setting, and the tides of the Blue Point Beach are rising as high as they can. Isn't it a perfect moment to capture with your DSLR?

4. Uluwatu Temple – 
If you are highly spiritual and want to impart a religious flavor to your Bali visit, head towards the Uluwatu Temple. It is one of the oldest temples in town and is known as a hub for the Balinese Kecak fire dance.
Other Essential Information About Blue Point Beach


1. Location –
Blue Point, Uluwatu, Bali 

2. Timings – 
There are no time restrictions to visit the Blue Point Beach of Uluwatu.


3. Price – 
Entry fee per person is 5000 IDR per head, and car parking fees are 2000 IDR per head. 

Places to visit near Blue Point Beach -


Here are a few more places to explore around the Blue Point Beach – 

1. OmBali Uluwatu Gift Shop – 
If you want to take some Balinese souvenirs or handicrafts back with you, visit the OmBali Uluwatu Gift Shop here. The place offers everything from crafts to clothing to art to souvenirs. The shop opens sharp at 10:00 am in the morning.


Distance from the Blue Point Beach – 0 km 

2. Uluwatu Temple – 
This is one of the oldest and most renowned traditional destinations of Bali. Uluwatu Temple comprises one of the 6 Bali's conventional and spiritual pillars. Here is an amphitheater nearby where you can enjoy some delightful Balinese cultural performances. The ancient sculptures and the traditionally designed getaways here adds-on to the beauty of Bali.


Distance from the Blue Point Beach – 0.9 km 

3. Thomas Beach – 
Thomas Beach is one of the stunning beaches of Bali, where the blue waters flow in and meet white sand on its shore. To take care of its tourists, the beach are lined up with numerous beach chairs and small huts. Besides, you also have sunbeds, umbrellas, and surfboard facilities here. It is one of the cleanest beaches in town.


Distance from the Blue Point Beach – 1.2 km 

4. Tanjung Benoa – 
Once a quaint fishing village, Tanjung Benoa has now flourished as a great tourist center catering to more than 50 cruise ships. This beach is known for its adventurous sports as well. It is known for its nightlife, spa, and dining activities. 


Distance from the Blue Point Beach – 25.4 km

Places To Stay At Blue Point Beach -


Have you ever experienced a stay in a resort where you have a picturesque oceanic view in your backdrop? If not, Bali is going to surprise you with such beautiful delights – 

1.Blue Point Bay Villas and Spa – 
The infrastructure of this villa and spa center is designed in such a way that it harmonizes with the beauty of the surrounding. The state of the art facility here gives rise to a romantic setting to enjoy a candlelit dinner with your better half.

Moreover, its luxuriously mastered architecture makes it a perfect place to plan on your destination weddings and other event parties. The tranquillity and the serenity of this villa will surely drive you crazy with its vibrant aura.

2. Lagen Cliff Villa Island –
Enjoying a commanding position amidst a beautiful setting of Uluwatu, Lagen Cliff Villa Island is a strategic location to serve as a haven for relaxation. While you spend your holidays here, make sure to take advantage of its luxurious offerings to the fullest.

There are Wi-Fi, altogether rooms & public areas, car parking, field transfers, and area services. You can witness the central ambiance of the Lagen Cliff Villa Island being cloned in every room here.

Tips for Visiting Blue Point Beach –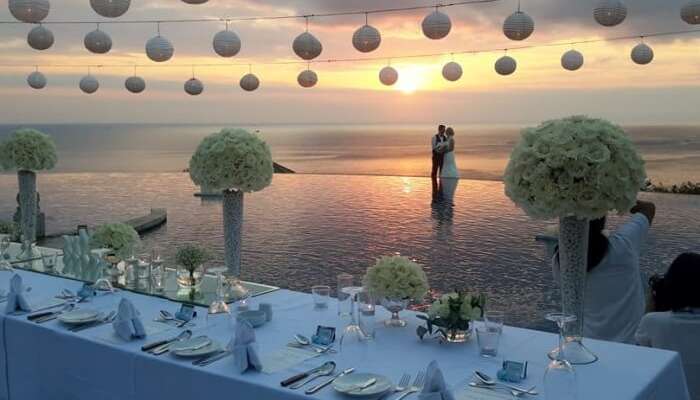 1.
If you are visiting the beach in the afternoon, make sure that you lather a good amount of sunscreen and moisture. Also, carry them with you while visiting the beach. 


2.
Do not forget to carry your personal identity card as it is a sign of authentication that you are a genuine Bali visitor. 


3.
Although there are small huts lined up along the shore of the beach, make sure to carry a sufficient amount of quick to eat food and water. You might need it to keep you energetic and hydrated.


4.
In case you want to try some other drinks, get to the small hut selling tender fresh coconut water. The coconut water sold all around the Bali beaches is the best quality and sweet one. 


5.
Get a sand mat with you to relax on the shore of the Blue Point Beach. 


6. There are car parking facilities available at the beach. So, you do not need to worry about driving to the beach in your private car. You just need to pay a nominal charge of 2000 IDR per car you park in their parking zone.


7.
While going downstairs, make sure to hold a good grip so that you don't slip off due to the flanked cliffs.


8.
If you haven't carried your personal surfing accessories, you might get it on rental basis at one of the tents.