(Last Updated On: April 15, 2019)
If travelling to hike up your social media handle, I bet you'd prefer to stay amidst fancy designs and big sparkly fall ceilings with big chandeliers. Or somewhere out of the box to make the unknown, known, a simple boutique with on-point view maybe. How good the feeling of being special is, walking right through the door and willing to capture everything around.
What little things you can click?
Remember the Instagram stories of popular travel bloggers posting everything, right from the welcome drinks, minibars, high-quality toiletries to the antique bathroom mirror. Seen the bed pictures as well, cringing yet? To summarise, if you belong to the picture perfect maniac group, accommodation should be at the top in your checklist. There are heaps of benefits, even if the fancy features vary from place to place, the fabulous shots in your camera roll, is a promise. Welcome to the Northern Thailand.
Get set to roll your camera in North Thailand
North Thailand does not witness a lot of tourists landing and having a prolonged stay. It's a pity though as the best of accommodations hiding here are being missed by all. What different do they have in their feeds, that is worth scrolling down and appreciating, is a big question. However, for getting the best of picture portfolio, consider Chiang Mai, 700 kilometres north from Bangkok, this destination has little secrets yet to be explored through naked eyes and lens. Do I have your interest yet? Asks the North Thai.
1. Anantara Chiang Mai Resort— Head towards this resort for a laid back chill experience

Sunbathe in true leisure at this unique flavoured locale with natural serenity and perfect setting. Apart from the basic lavish amenities like the refreshing spa, and grand chill pool, go board the sunset river cruise which is a 45-minute tour and admire Thai houses and lush gardens. If not this then fly high in a balloon and take a Thai aerial view.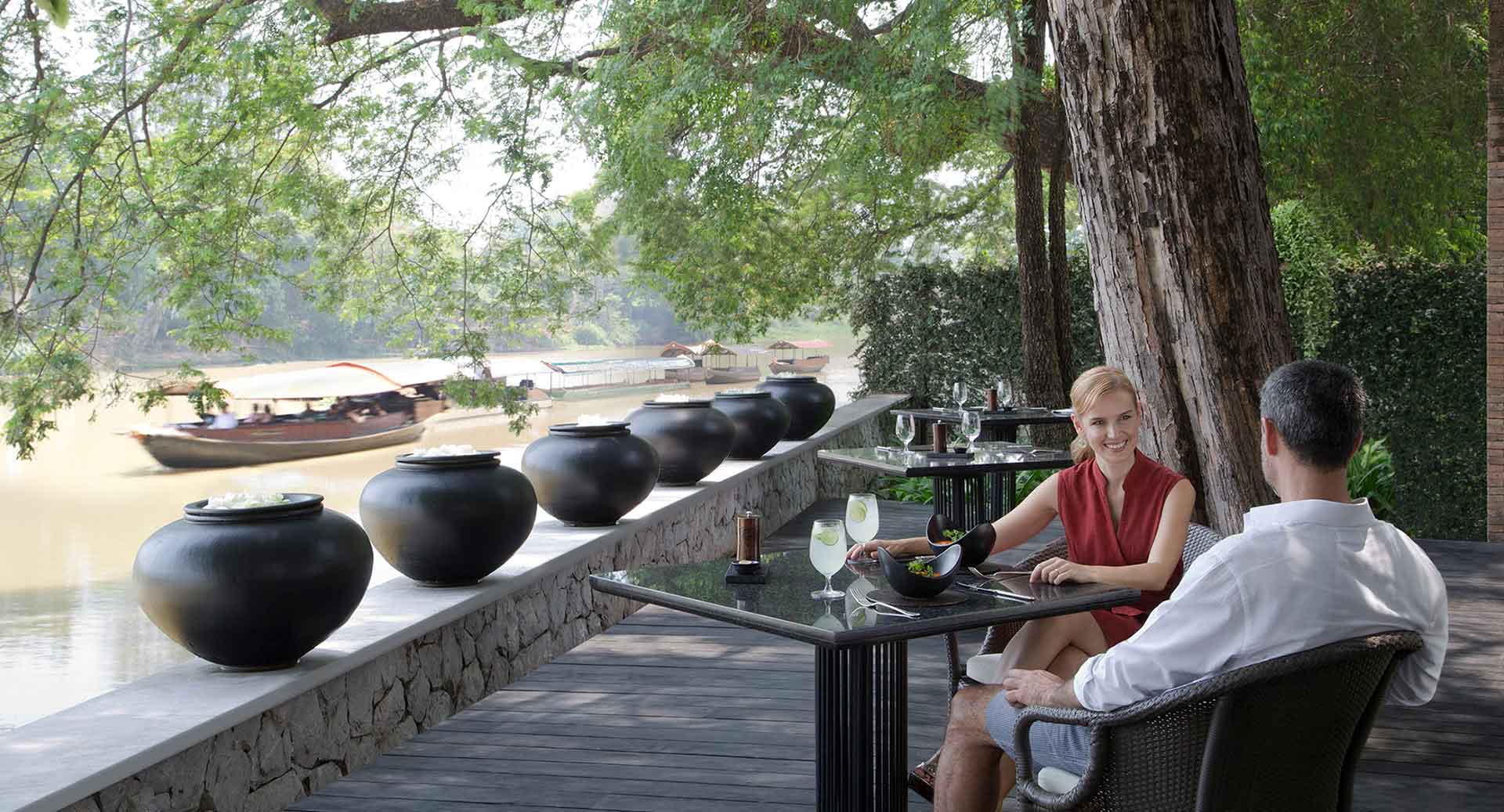 Pocket meter- 15500 Bahts or 490 dollars or 35000 INR
Location- 23 123/1 Charoen Prathet Rd, Amphoe Mueang Chiang Mai
Click here for some of the best tour packages of Thailand.
2. Architecture appreciators, a suggestion for you, without much ado stay at—- Grand Morroc Hotel

Feeling aesthetic? Gothic style up is much needed here as the backdrop theme is Moroccan styled. Before you wonder what we are talking about, let's make it more precise. This hotel is your chance to get some never seen before godly pictures and of course a stay for life, so before walking in Upgrade! The pool reflecting the carved walls is a sight not to be missed. Colours in your suites and lounges are bolder than you can imagine and the comfort is next level.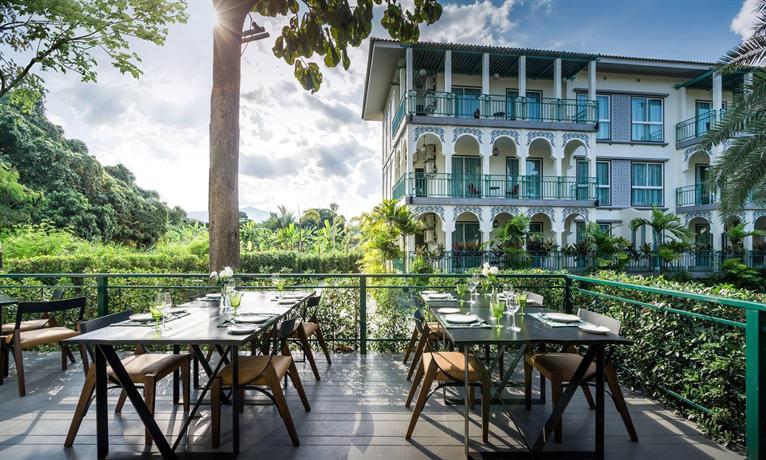 Pocket meter- 2300 Bahts onwards, worth shelling out, 70 USD, 5000 INR
Location- 596/2 Moo 1, Rim Thai Sub-District, Mae Rim District, Chiang Mai
Here are some of the best tourist attractions to visit in Thailand.
3. Drama calling, Perfect Wine and everything nice—Hotel Des Artists Ping Silhouette    

Flamboyantly sophisticated and highly dramatic, don't forget to pose with a perfect winged eyeliner, ladies. Straight out of Picasso's paintbook and carrying an antique peppy aura, this is a Perfecto! Stayplace. Style up artistically as the backdrops here are black, I am wondering what would i wear. The pool on the rooftop is blue, somehow so grab a glass of wine and have a good time. OH! Do i need to remind that a picture is must.
Pocket meter- 2900 Bahts onwards, 87 USD, 6500 INR
Location: Wat Ket, Amphoe Mueang Chiang Mai
Click here for some of the best places to visit in Bangkok.
4.Roll with the gladiators or watch the colourful mermaids—The time movement

Choose any room out of the 22 in number with vivid themes, I'd choose Disney over any other, anytime. Wondering, how happy my vacay can be posing with every character. It does have a playboy room and an entire glass room just in case you feel flashy and upbeat.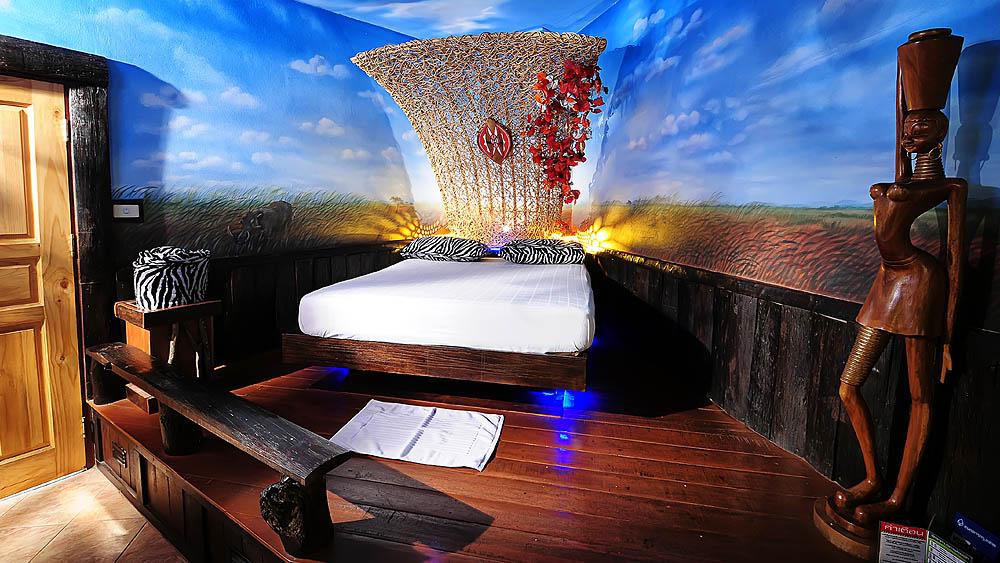 Pocket meter- 150-500 Bahts per hour, 13 USD, 350 INR
Location- Photharam Road, Chang Wat Chiang Mai.
Explore some of the best things to do in Bangkok and make your trip amazing.
5. DIY Alert! Get crafty! — Hotel Yayee

If modern-day rusty art catches your attention and complex yet comprehensible decor suits you, mark your presence at this locale. Filled with vivid patterns, it has an upbeat aura and an amazing rooftop bar worth visiting. Gazing at the skyline and sipping your drink is a perfect evening idea. Click around as you unleash your creative soul and have a merry time.
Pocket meter- 3000 Bahts onwards, 90 USD, 6800 INR
Location- 17/4-6 Soi Sai Nam Phueng, T.Suthep, A.Muang, Nimmanhemin, Chiang Mai
Check out some of the best tourist attractions in Krabi.
6. Willing to Experience a VIP aura? Head to the River Flows Camp

Ever wondered how nice it would be if the first thing you see in the morning is a river flowing nearby and the soundscape just being perfect. A little far off from the hustling town, this locale is worth staying in, as far as staying and photo shoots are concerned. Designed to offer you pure leisure, you get to go on a rafting tour as well, the best part is that its free if you are a guest. Free adventure topped up tons of pictures, what else can be the best.


Pocket meter- 10,000 Bahts, 300 USD, 20,000 INR a bit on the higher side but promising enough to give a return with interest. You won't regret spending your money here.
Location- Chotana Road, Mae Taeng, Chiang Mai.
Click here for some of the best activities you do in Krabi to make your trip wonderful.
7. Willing to taste Europe in Thailand? — San Pareni Hotel, Chiang Mai

The 29 rooms divided in both superior and low key segments are mesmerizingly designed to portray European style architecture. If you don't know yet, Europe is one of the photography paradise on the world map. Also, this hotel has its own restro offering live music. If excited to be in the mini-version of it, land in this locale and get the best of both worlds.

Pocket meter- 760 Bahts, 24 USD, 1700 INR
Location- 45/8 Moo 1 T. Mae-Hia A. Mueang, Chiang Mai
Book some of the adventure things to do in Phuket and make your trip memorable.
8. The blue lagoon—Khum Phaya Resort And Spa

Lagoon shaped swimming pool is a rare sight, this resort is boasting about it and it has all the reasons to do so! If seeking for relaxation land here, after your aromatic massages, feel all refreshed and rejuvenated. If the food reaches the brim, work out at the well equipped fitness parlour and then head to steam room. Sounds fascinating?


Pocket meter- 6200 Bahts or 200 USD or 14,000 INR
Location- Tambon Nong Pa Khrang, Amphoe Mueang Chiang Mai
Phuket has got ample of places to visit that will leave you awestruck. Check them out.
9. Much ado about nothing—North Hill City Resort

If you do have the zeal to learn how do Thai locals cook and top the taste of what they eat. Spend some time around the professional chefs while they teach you the exotic recipes. Or polish your golf skills at the lavish course. You can also board the complimentary shuttle buses at your service and roam around anywhere and wherever you wish to.


Pocket meter- 4400 Bahts or 140 USD or 10,000 INR
Location- 188 Moo 9 Chiang Mai-Hangdong Road Baanwan Hangdong
10. Dhara Dhevi Resort- Modern luxury mixed with traditional roots
Built on the concept of architectural and cultural influences of the ancient Lanna Kingdom. This is the world's most spacious accommodation.
A world away from the world

This resort hosts a lot of activities worth spending time on. The art and craft village is one of them, the entire Thai culture will impress you as the demonstrators teach you how do they make such beautiful articrafts. Another superb amenity here is the in-house library, if bored you can just sit back and read in peace. If carrying your todds along put them in the kids club and set them free to explore themselves and play in joy. Apart from all this there are several more clubs and vivid bars on board. Needless to say, the pool and spa are just amongst the small perks, you can avail from this magnificent package.

Pocket meter- Choose from the platter of villas, suites, deluxe with a combination of set of amenities in alignment with your stay plan. The prices vary accordingly.
Location- 51/4 Moo 1, Chiang Mai-Sankampaeng Road, T. Tasala, A. Muang, Chiang Mai
11. Horizon Village & Resort- Go up in the sky in a big lantern!

Go take the hot air balloon tours here under the supervision of some international professionals. Have a better early morning idea? I doubt. Balloons launch from the hotel at 6:30 am so that your experience will include the most pleasant flight possible over the grand panorama that is Chiang Mai, Thailand.


Pocket meter- 8800 Bahts per person or 276 dollars or 2000 INR.
Location- 200 Moo7 Chengdoi, Chiang Mai-Doisaket
Bangkok floating markets are the best options to roam across the city. Check them out here.
12. Beside the River—Holiday Inn Chiang Mai


Spotless edgy rooms and scented corridors, making you linger throughout. To top it up a river view is another perk. The fancy decor and classy interiors will undoubtedly melt you along with perfect serving. You can tour inside the hotel for it has a lot to offer you on the inside as well as outside.

Pocket meter- Variable with preference
Location- 318/1 Chiang Mai-Lamphun Road Tambon Wat Ket Muaeng Chiang Mai
Check out some of the best Bangkok tour packages and book your trip to this place now.